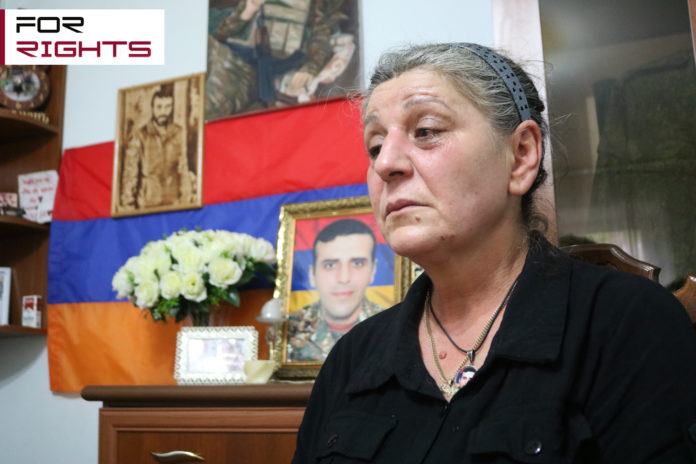 Yurik Sargsyan, 36, was killed by a sniper on November 6 in the town of Shushi. He was married and had two daughters, aged 8 and 11. The girls already know what happened to their father, but they do not talk about it.
"When he heard about the war, he volunteered from the very first day, they did not draft him. They were constantly delaying from today to tomorrow, today-tomorrow, but he went to them so many times, called them day and night, got in touch, and finally received a notice on October 22," says Yurik's mother, Karine Vardanyan. The last time the mother saw her son was on October 22, near the military commissariat.
"I had bad feeling. When the bus started moving, the license plates of the car were closed and, from that moment on, I had a bad premonition. I was expecting something bad every minute. Every second. I could not find my place. He was on good mood; he was happy, he was calm, he was joking. To his father he said, "You take good care of my mother until I come back." He told me not to upset my father until he returns… He called on the morning of November 6… He was calling at 9:30 in the mornings, saying that he was calling so that we could hear his voice, know that he was fine… That day he called and said: 'We are being transferred somewhere else; I will call you when I get there'. Since then, I am waiting… I wait for his call at the same time every day, but there is none, " says Mrs. Karine.
Although Yurik called his family every morning to say that he was fine, he did not say a word about his exact whereabouts and what was happening around him. Later, Yurik's parents learned that he had taken part in the military operations near Red Market in Martuni, then moved to Shushi. "At that time, he would call us and say, 'Mom, we are in the forest, there is nothing here [to be worried about], it is calm, we are enjoying life'," tells the mother.
According to the mother of the deceased volunteer, her consolation is that she was able to see her son for the last time before the funeral and say goodbye to him. "My only consolation is that I have seen him [means his body] complete, I know it was him. He [his body] was not fragmented, [the coffin] was not closed. I know it was him, it was my baby. I do not know anything else… There are questions, the answers to which no one knows."
Yurik Sargsyan is buried in Yerablur [military cemetery]. Mrs. Karine visits her son's grave every day. She says she feels peaceful only there.
Ani Gevorgyan