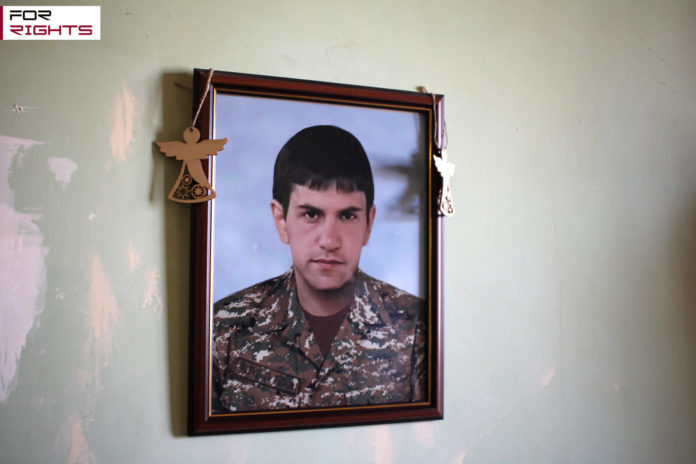 Harutyun Hakobyan, 22, voluntarily left for Artsakh on September 29, opposing his father's prohibition. The next day, his father and elder brother also left for Artsakh. Harutyun was killed by a sniper during a battle in Hadrut.
Single father Hakob Hakobyan tells us that his younger son was a hardworking boy, did not hesitate to do any job. Recently started to do hairdressing, decided to become a good professional.
Upon learning of the war, Harutyun went to his father, who was in a hurry to volunteer, at the Yerkrapah Volunteers office and said, "I'm coming too." The father replied that he did not allow it.
"I sent him home and told him not to come there [to the Yerkrapah Volunteers office] anymore. He went and entered the military commissariat. When I learned that he had left, I followed him," tells Hakob Harutyunyan.
The father and sons were in the same position first, then the younger son was taken to another location. About twenty days later, Harutyun was called by his younger son's friend and told that he was killed. "He said there was an attack, they hit him. They were 40 people, and boys were 7 people… he says he managed to save the other boys and 2-3 girls. He said they hit him on the vertebrae, he got up, walked forward and a sniper hit him… The enemy was on seven meters distance. They threw white phosphorus on them. He used to blow up the phosphorus in the air with his machine gun so that it would not fall and burn everything. There were 8-9 people in each of our posts in Hadrut. They attacked at each post with about 40 people," says the father of the dead soldier.
He notes that his son's body was found with great difficulty. When there was no news from Harutyun for several days, the older brother began to walk around hospitals and morgues.
"He looked in the cars. He was told that Harutyun's body should be recognizable; it was not burnt… He was found and recognized among many corpses due to his tattoo. He had a large colored tattoo of his dog on his arm. They found him so and brought him… We buried him only on the 25th of the month. I immediately got down from my position and came here. And, as if that was not enough, they called me again and said, 'You ran away, why did you escape?' But my son is dead, I came to bury my son, what escape are you talking about? I wrote an appeal, I handed over my weapon, and came… One did not know what the other was doing… The last time we talked on the phone there should have been a ceasefire. We were talking, he said, "Is this your ceasefire? They are shooting again."
Hakob says that if suddenly a war starts again, he will not allow his eldest son to go to fight. "At least, he has to live, he still has to get married and start a family."
Ani Gevorgyan