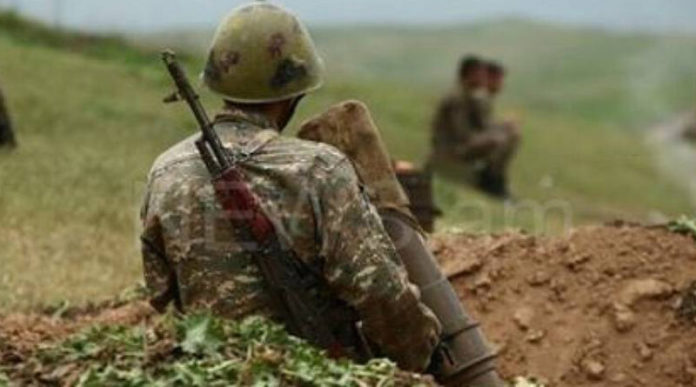 Artur Babayan, who returned from captivity in Azerbaijan on February 7, 2022, continues his military service despite his physical and psychological problems. forrights.am previously reported that, after returning from Baku, Private Babayan remained in the military police for about 10 days and was transferred to the Chambarak military unit to continue his service. The parents reported that day that their son's health condition was incompatible with the service.
Artur Babayan initially went to serve in Jermuk. He was captured on November 16, 2021 during the incidents on the Armenian-Azerbaijani contact line. He spent 3 months in captivity in Azerbaijan.
On February 22, forrights.am asked Defense Minister Suren Papikyan questions about Artur Babyan's health condition, undergoing the necessary medical examination after returning from captivity, continuation of his military service after suffering psychological and physical violence in captivity.
The defense department responded to forrights.am's inquiry only after 37 days, without informing in advance about the need for additional time. The department headed by Suren Papikyan provided only positive information about Artur Babyan's condition, which the parents deny.
From the response of the Ministry of Defense it was clear that Artur Babyan did not receive rehabilitation treatment. It is noteworthy that the Ministry of Defense came to such a conclusion only after conducting an outpatient medical examination.
"On the day of his return [from captivity], Artur Babyan underwent an outpatient medical examination at the Central Military Clinical Hospital, as a result of which no need for rehabilitation treatment or military medical examination registered, and the psychologist performed an individual psychological work of a diagnostic nature, as a result of which no behavioral deviations were observed in the soldier," mentioned in the response of the Ministry of Defense.
In a conversation with forrights.am, Artur's mother, Voski Babayan, claims the exact opposite about her son's psychological condition.
"Have they studied my child's psychology? Are they interested in what is happening to my child? He has a lot of psychological problems: when he came on vacation, the neighbors did not recognize him; they asked, is this your Artur? His face is normal, but he makes such movements… He is getting thinner and thinner. I gave them a handsomest child, but see what they returned to me… I do not know what to do. I call the Ministry, but they do not answer the phone. There is a normal officer; he sometimes spends time talking to my child psychologically.
When he came on vacation, the children bought balloons for their brother; one of them exploded, you cannot imagine how he jumped up, we thought something terrible happened. All these voices affect him. I want the Ministry of Defense to listen to me, can my child's situation improve, or can they demobilize him and send home? My child can not serve in this condition," says the mother, emphasizing that the boy's legs are terribly swollen, and he has severe body aches, which are the aftermath of the days spent in Baku.
To our question whether Artur Babyan's health condition is compatible with the service, from the Ministry of Defense answered that the boy is under the control of the medical service in the military unit. At the same time, Artur's mother alerted that the boy had contracted bilateral pneumonia some time ago and was taken to a civilian hospital only after her requests.
"I called and asked them to take my son out of the military unit and take to Karmir (Chambarak) hospital. He was suffering from terrible double pneumonia. He is coughing terribly. When he coughs, it seems as the lungs are about to come out of his mouth," says the mother.
Artur Babyan remained in the military police for ten days after returning from captivity, then was transferred to compulsory military service without even meeting with all his family members. He met some members of his family only in the military police building. After three months in captivity, Artur was not given leave for several days by the Ministry of Defense. Only three days after forrights.am's February 22 letter to Minister Suren Papikyan, 10 days off were granted on February 25. Voski Babyan says that they gave that leave after her multiple complaints.
"Those ten days they gave me, it was because I went and asked the commander. I said he has been in service for 8 months already. His sister and brother did not see him after he returned from captivity: let me take my child home. Only after that, with much difficulty, they gave him ten days off," says the mother.
Artur's parents hope that the Ministry of Defense, taking into account the physical and psychological condition of their son, will demobilize him ahead of time. However, in response to our inquiry, the Ministry of Defense informs that they are not going to demobilize those who have returned from captivity. They said that there is no such legislative initiative in the Ministry and the issue is not being discussed.
The Babayans are a large family. They live in deplorable social conditions in an emergency apartment. There are eight children in the family and only two of them are adults. Their only means of subsistence is state benefits.
Narek Kirakosyan