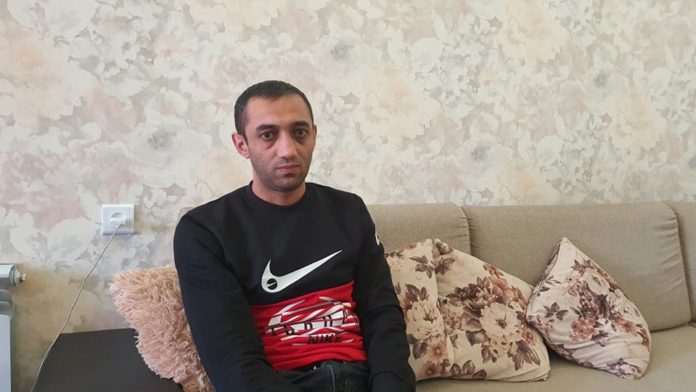 "There was a very unexpected attack by the Yashma detachment, we fought in hand-to-hand combat, our position was blocked: they were much more than us. It was our shift at that moment," Major Narek Yerimyan, Deputy Battalion Commander, recalled the incident of the clash between the Armenian and Azerbaijani troops in Jermuk on November 16, 2021, in a conversation with forrights.am.
To remind, the representatives of the Azerbaijani armed forces attacked the Armenian positions from two directions on that day — from Jerkuk and Sisian directions. The Armenian side suffered six casualties during the fighting, 32 servicemen were taken prisoner, including Narek Yerimyan. He mentions that, in addition to him, 10 other people were taken prisoner.
Battalion Deputy Commander Narek Yerimyan was released from Nubarashen penitentiary a few days ago on bail of 1 million drams. He has remained in Baku 20 days. After returning to Armenia on December 4, he was charged with Article 365, Part 3 of the Criminal Code, violating the rules of military duty or military service, which caused severe consequences. On December 27, 2021, Major Yerimyan was arrested.
"A person misses his parents, children, family, comes to see them, but, well, does not see anybody," he says.
Speaking about the events of November 16, 2021, Narek Yerimyan notes that the Azerbaijani "Yashma" special detachment penetrated into Armenian positions at 11:00 in the morning.
"Our watcher noticed, tried to stop them, but they did not stop, they came forward. We were busy handing over and accepting the shift at that time. As soon as our watcher told us what was going on, we left, but they were already near us. We stood facing each other and started talking. They were telling us, 'This is our position, we have a new map.' We explained them that we and their command had determined these boundaries via GPS. Aggressive behavior led to beatings and fight, we got into a hand-to-hand combat. Ten people were talking to us, but our position was already surrounded by them. Besides, there was a lot of movement in their trenches, there were a lot of people. It was confirmed when we were taken prisoner and taken to their positions," says Narek Yerimyan and emphasizes that in that part of the contact zone, where he was serving, the Armenian-Azerbaijani positions were not far from each other.
"Azerbaijani positions are very close to ours, we have given back a little since November 16. It is about 100 meters away from the positions and, there are places where the trenches are about 50 meters apart from each other. This Azerbaijani position is on a hill, ours is a little down," Yerimyan said, adding that the night before the incident, they had tightened control and noticed no movement.
"The Azerbaijanis knew that our special forces detachment was there; they asked me where the detachment was, they were waiting for them. The "Yashma" detachment came for our special forces detachment. We have never had anybody from special forces. Sometimes we hold a position with five, or six, or seven people. I do not remember exactly how many people there were that day.
Seeing their arrival, we tried to contact our people and say that they were in our position, but before any help to arrive, some time was needed; they could not come immediately. There was no mutual shooting, but they fired, I saw it. If you are in a position, you have to shoot, we just did not make it, it was unexpected," he noted.
Narek Yerimyan does not accept the charges against him. He hopes that justice will be restored in court. The date of the court hearing is yet unknown.
Narek Yerimyan has studied at the Vazgen Sargsyan Military Institute. From 2009, he served in the military units of Artsakh and Armenia. He does not work now. He has not been officially fired, but it is not known whether he will be reinstated or not. He applied to the Ministry of Defense, but received no clear information.
"The mortgage of the house is paid by my parents and other relatives. There are four of us in the house: me, my wife, my two sons, and soon my third child will be born. They need to be taken care of. The Ministry does not say anything definite; I am waiting, the situation is uncertain. Since I returned, I have not worked, I did not receive any salary, I am looking for another job," he said.
Narek Kirakosyan