– Wonderficent.
This is how Samvel Gevorgyan's mother, Hasmik, answered the question on which phrase her son often repeated. "He introduced a new word in Armenian."
– Wonderful or wonderficent?
– Wonderficent. Do not think of me, the important thing is you. If your son is here, then everything will be fine. Sleep well: I am securing your sleep.
Samvel
Samvel was engaged in chess before the war. He loved chess very much, has the title of "Master of Sports". He had many successes and had decided to study at the Institute of Physical Education after the army.
He was a very happy, smiling, kind boy. Wherever he was, there were peace and kindness. He was in the 5th grade when we went to Moscow. He could stay there, but he decided to serve [in the Armenian army], Armenia was attracting him. At the age of 19, he started serving in Mataghis. He was very pleased, he was very proud, he used to say, "Mom, the boy serving in Mataghis is a king: do you know what that service is?" He was very satisfied before the war started.
The war started
Two months and 20 days remained before the end of the service, when the war started. On September 27, at 3.30, he called and said, "Everything is normal, do not be upset, mom, your son is a hero," he was reassuring me. On the very first day he confiscated a tank. His friends tell that, when his friend was hit, he swore that he would take revenge and he confiscated that tank.
As in his life, during the war too my Samvel devoted himself to the homeland, even removed his friend off the battlefield, and died on his hands.
He was calling frequently, even though he had no phone, but was still calling. He would call, say, "Everything is okay, I'm fine," and would turn the phone off. He said that this was not a war of arms, but he said that everything would be fine, every time he asked, "What do they say, when will it end?" He was waiting [for the war to end] every minute.
The last time we talked to him was on October 6. It was like a farewell․ He talked to everybody. "Mom dear, stay well, I love you very much", these were his last words. He always said that everything would be well; that was his thing. He was always smiling; you would not see him with sad face. Only once his voice was very sad: later we learned that they had many victims that day.
He was in Mataghis. They were under siege; they took them out and transferred to Drmbon. On the second day, Sam had called, saying, "All the positions are occupied, only our position, the 101st one, is left." That is, they were under siege. Later we were told that, in fact, they get an order to retreat, and they also left their position. From Drmbon they took them to Martakert, from Martakert — to Varnkatagh, to defend the hill, and there a drone hit them, they did not reach the hill.
We had no news for 6 days. We were calling, they were saying that they had seen him, he was alive, but they were lying. The incident took place on the 7th. We found out about it on October 12… and we found him in Metsamor.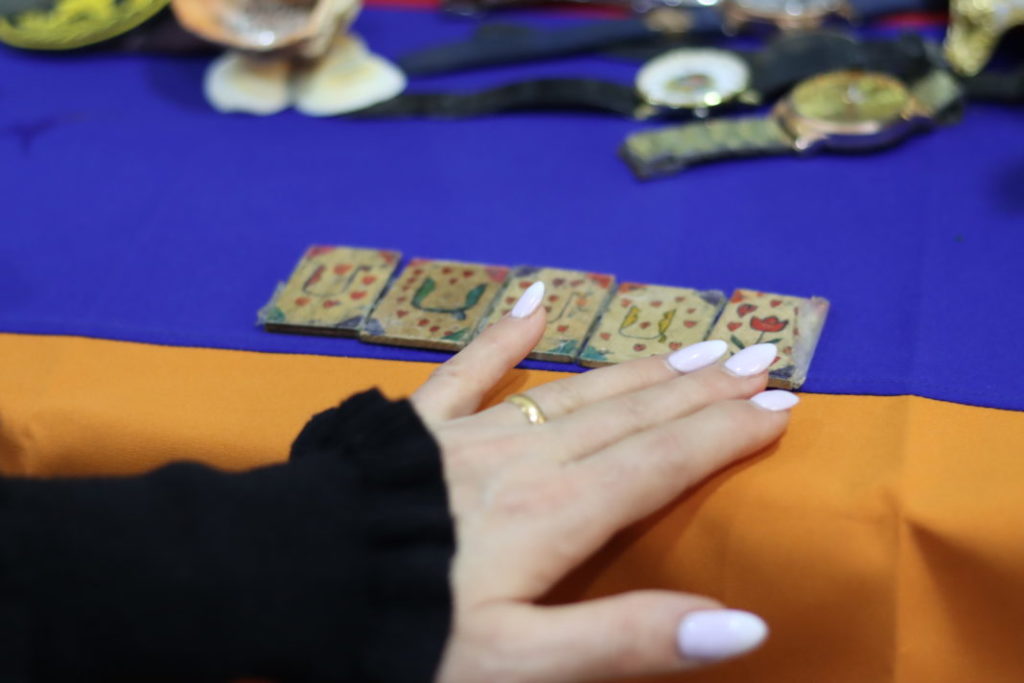 Posthumous medals
My Sam received the Combat Service Medal and the Order of the Combat Cross of the 2nd degree. He has many certificates of merits; even after his death I received a letter of gratitude for him being a good soldier.
His friends say that he was very diligent, was involved in everything. Someone told us that Samvel was proficient in all the weapons that there were in the arsenal. He was like that in life: he was striving for everything, there was nothing that he did not know. But he liked chess the most.
After Samvel
The chess classroom at the school will be named after my Samvel today. Yesterday I was in commotion; I was going here and there, getting ready… then I thought, what am I doing? Why, what should I be preparing and what am I preparing to now? It is not a wedding or something․․․
Ani Torosyan, Author
Photos by Astghik Gaudyan