18-year-old Gevorg Manasaryan was a sniper and was serving in Jrakan. His family members were in Jrakan at the time of the start of the war, in a residential building very close to his military unit. A day before the incident, they went to see Gevorg.
"He was in the post for 15 days. He came down the post on September 25, and the next day we went to Jabrayil. We were together all day. He stayed with us that day and slept with us. The commander allowed it, but said let him come at seven in the morning, show himself here and then return to you again. He left at seven AM and got "present" and did not make it back. At 7:20 the war began. We were sitting in the building at that time. The windows of the building broke. There were commanders in the building, they shouted to get out of the building. We left the building, hiding under the trees… When we left the building, we saw their drones, we even saw how ours hit a couple of them. We stayed until noon. There were people from Artashat, they showed us a short way back, we went out to Goris through the mountains and valleys," says the father, Davit Manasaryan.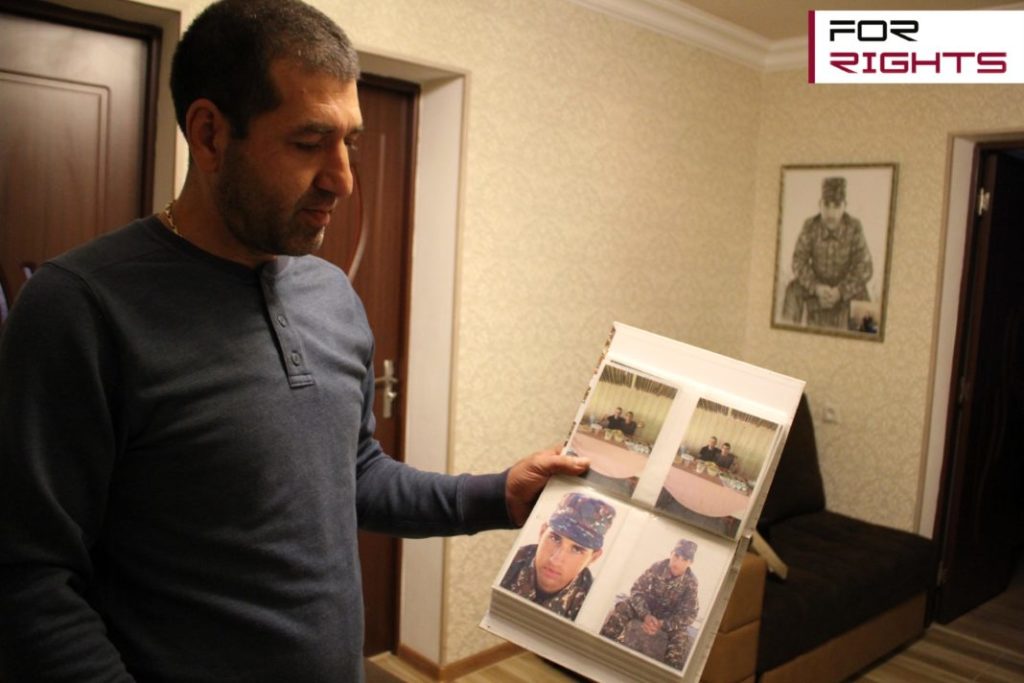 During that time, Gevorg frequently called his parents, telling them to leave quickly; he wanted to make sure that his parents were no longer in danger. "Until the last day, he said he was in a safe place, there was nothing dangerous for him," recalls his father.
The family last talked to Gevorg on October 11. Gevorg asked his parents to buy winter clothes for him and his ten friends. "There were 11 snipers. He said buy [warm clothes] for everyone. And so we did. He did not call the next day. We thought the connections were not good. Then I received a call; they said that there was a phone with my son's pictures on it," said the father of the dead soldier.
Gevorg's friends told his parents some details about what happened. "They say that when the missile fired, he was standing. He jumped up, saved two people, but could not save himself…"
David himself told his wife about the death of their son, calling an ambulance and relatives in advance.
The mother of the dead soldier, Mrs. Heghine, says that she feels guilty that at the beginning of the war, being so close to her son's military unit, she did not go and perhaps did not force her son out of there.
"I raised my son teaching him what a good thing life is, that there are no bad things in life… and he grew up and went to war," says the mother, who carefully saved the small thorn from her son's clothes. She says, "I's my son's thorn".
Ani Gevorgyan