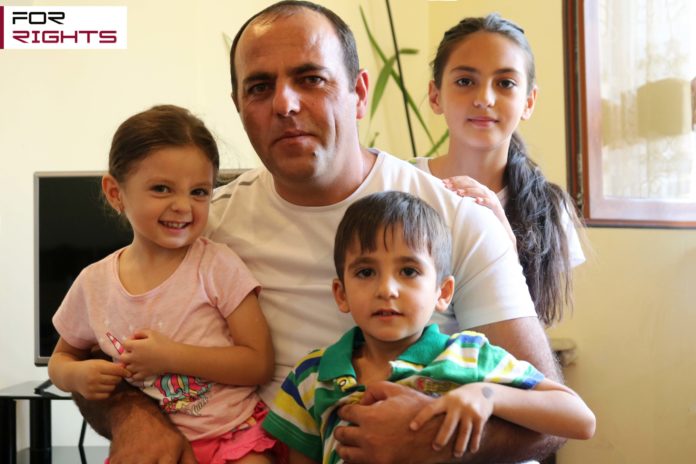 Arthur Stepanyan, a 7-year-old contract soldier and father of 3 children, was taken prisoner in Zangelan on the very first day of the war with his fellow servicemen. Three days later, the Ministry of Defense fired him and the others, leaving their families without a livelihood.
Stepanyan remembers that about 50 people left Armenia for Artsakh by three buses. On the way, the commander was warned that there was an armed enemy ahead, but the column of soldiers did not stop. As a result, there have been many casualties, many of whom are still missing.
"I served in Etchmiadzin for seven years, I was held captive for eight months. We were just released on June 12. During these eight months, my leadership has not supported my family in any way. 72 hours after I was caught, my wages were stopped, and to this day no one has asked me how I am, how these three children lived. I went to the Ministry of Defense and wrote an application for dismissal. "I have written a letter to the Minister and the Chief of General Staff about all this, but so far I have not received any response," says Arthur Stepanyan.
Recalling the months of captivity, he noted that he spent eight months in a Baku prison, then was sentenced by a court to four months in prison for allegedly crossing the Armenian-Azerbaijani border illegally. The sentence was due to expire in September, but with the help of the Red Cross, Arthur returned home earlier, a month after the verdict.
After returning from captivity, Stepanyan was taken to Kanaz Military Hospital, where he was held for only three days. He did not receive any other support from the state.
Stepanyan does not blame the commander, who managed to escape the blockade and survive. He says he was just carrying out an order, doing what he was told. However, he notes that, despite all this, he expected a more humane attitude from the state, which sent its contract soldiers to guard the country's borders.
"God forbid, if something happens the next day, aren't we, the same posple, going to go again?" says he and notes that he speqaks not about himself and his family but multitude of families, who were also left without a livelihood after the father of the family went to war.
"Men and women received pensions, we survived with that pension. There was no news for five months, five months later we received news that Arthur was a POW. We once saw on TV that he was on the missing persons' list. After that, we started going to the Red Cross every day or every other day, until we received the news, and then we calmed down a bit," says Arthur's retired father.
Stepanyan says that both during and after his captivity, his family and the love of his children gave him the strength to live.
We are trying to get clarifications from the Ministry of Defense on the issues related to the dismissal of Arthur Stepanyan, and as soon as we receive it, we will present it to our readers. Let's just mention that Arthur is not working at the moment, he is facing difficulties in supporting his family.
Ani Gevorgyan