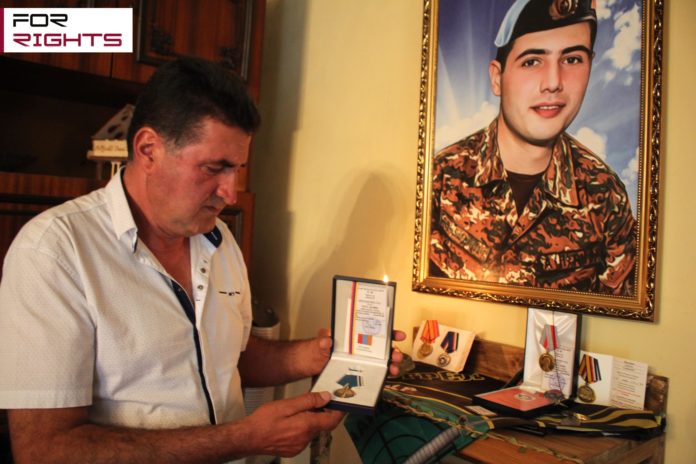 Seryozha Margaryan, a serviceman of the Special Forces, was fatally wounded in Ishkhanadzor on October 20. Two of his fellow servicemen were killed on the spot by drone strike, and Seryozha was taken to hospital where he died six days later without regaining consciousness.
The father of the killed soldier, Hmayak Margaryan, has been a freedom fighter and says he took part in three wars. Seeing his father's life, Seryozha decided to become a soldier and dedicate his life to the defense of the homeland.
Seryozha was 30 years old. He studied at the Monte Melkonyan Military College, then joined the military. During his service he also visited the peacekeeping forces in Syria.
On September 27, he was at home on vacation. Learning about the war, he immediately returned to service.
Seryozha's fellow servicemen were at the Margaryans' house at the time of our visit. "Three friends were at the same place. It was a counterattack on our part. All three were injured by Bayraktar [Turkish medium-altitude long-endurance unmanned combat aerial vehicle]. The other two boys were killed on the spot. Sergo was brought to Yerevan. He was in very grave state… When you go to the front, you do not think about dying. You realize that anything can happen, but you know you are going to fight… War has its rules. We were prepared. If we stayed in the bunker, we would feel safe, of course, but we fought, we were on the front, everyone was doing the impossible," said the friend of the killed soldier, answering our questions.
The soldier's mother says that her son was happy person, even, when making video calls and talking to his mother during the war, he was joking, laughing and trying to lift the family's spirits.
During the war, he came home for a day on October 17. He was last seen that day. He was seriously injured three days later. "He was still happy and cheerful, as always. It was as if he had not come from the war, as if he had just seen a movie and come home," says his mother.
The soldier received a shrapnel wound to the head. The father says the scene was very brutal and it was clear that the injury was too severe. That is why the mother was not allowed to enter her son's hospital room and see him for the last time.
Ani Gevorgyan