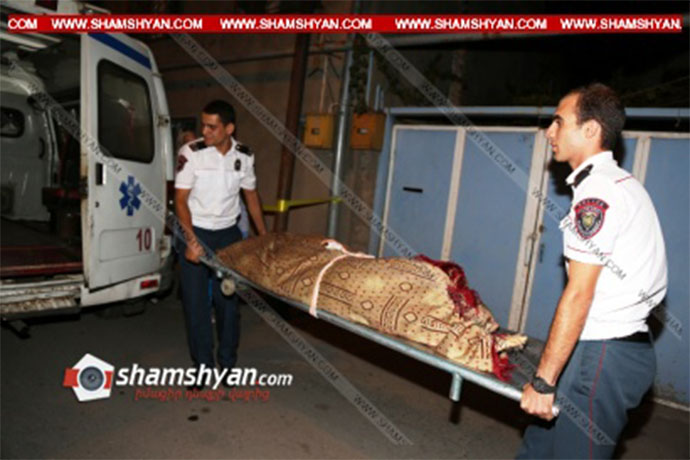 On August 30, 2018, a horrible murder took place in one of the houses on Araratyan Street of Yerevan. The victim was 28-year-old Marine Danielyan, who was renting the house. Her body was found by police with 65 stab wounds. On the same day, Marine Danielyan's ex-husband, 38-year-old Abovyan resident Karen Hovhannisyan, with whom Marine had a common child, was arrested. His neighbors saw his car in the yard that day. Three years have passed, but the investigative body or the court, which is currently examining the case, do not have any direct evidence that Karen Hovhannisyan committed the murder.
This is stated by Karen Hovhannisyan's wife, Arik A., and his former and current lawyers.
Karen Hovhannisyan did not avoid the investigation. He told police that he went to Marine on September 30 to see her off at the airport. He did not know from whom Marine was fleeing, but on his way to her, according to Hovhannisyan, he was attacked by several men there, and then left.
Hovhannisyan is in detention for about three years.
He is charged with "murder with particular cruelty" under Article 104, Part 2, Clause 5 of the Criminal Code of Armenia.
Karen Hovhannisyan was an employee of the Panther Security Service.
According to the materials of the criminal case, he was in a love affair with Mariam Rafiki Danielyan. had one child in 2016. They had tense relations over the matter of seeing the child, which led to an argument and a murder. Neither immediately after the incident nor later did Karen Hovhannisyan plead guilty.
In 2019, he went on a 48-day hunger strike, drawing the attention of the prosecutor's office. Prosecutors visited him and assured that they would review the case to guarantee an objective investigation. Karen Hovhannisyan stopped the hunger strike, but the prosecutors did not keep their promise. He is still being held in custody.
During the three years he spent in Nubarshen penitentiary, Hovhannisyan's health was irreparably damaged. He was beaten and tortured by the staff of Nubarashen Penitentiary, demanding to plead guilty.
Karen's wife Arevik told Forrights.am about this, recalling the incidents three years ago, when she saw her beaten husband near the hospital backdoor.
"After 72 hours of detention, he was taken to Nubarashen penitentiary. There, he was evidently beaten. Then we learned that they took him to Erebuni MC; he was in a terrible condition.
I saw him from afar, one eye closed, one eye opened, in horrible condition. One side of the body was weak and did not function. In that condition, he was taken to Erebuni MC, examined, but not admitted. They kept him until the morning, took him out from another exit in the morning, so that we would not be able to see him. They would not let us in. They took him back to the Convicts' Hospital, then transferred him to Grigor Lusavorich Hospital. There was a closet-like place in the intensive care unit with a divider. I saw him there for a moment, there were bruises on him. There were finger patterns on the body. The deputy head of Nubarashen told me that the doctor had tried to bring him to consciousness by pinching hime, hence the bruises. Karen shouted, "Call for human rights." I felt the fear of those people. Karen was not saying anything; he left the impression of being scared. I saw it with my own eyes," says Karen Hovhannisyan's wife.
She assures that her husband did not have any health problems, and now he is sick, disabled, barely able to move in a wheelchair.
Excerpt from the motion of detainee Hovhannisyan's lawyer, demanding that the court change the measure of restraint. "Karen Hovhannisyan has been in custody for about 2.5 years. Prior to his arrest and detention, the latter did not have any serious health problems, but during his stay in the penitentiary, his health deteriorated sharply, he acquired a number of diseases, becoming disabled. In particular, on May 20, 2020, by the decision No. 1472855 of medical and social examination, Karen Hovhannisyan was given the second group of disability, and on May 13, 2020, according to the certificate issued by the Adult Cardiology Clinic of "Nork-Marash" MC, Karen Hovhannisyan was diagnosed with Hypertensive disease of the 3rd degree, which corresponds to the 40th item on the list of serious diseases (disorders, conditions) that hinder the precautionary measure chosen by the RA Government Decision No. 825-N of May 26, 2006. In addition, the defendant has a number of other health problems, in particular, according to the examination of May 7, 2020, he was diagnosed with "MRI image of the brain without focal changes. Asymmetric dilation of the subarachnoid space of a substitutive nature. Hypoplasia of the right vertebral artery. Right maxillary cyst "; on June 22, 2020 he was diagnosed with" Hypertension III: Residual occurances after a stroke. Tension angina II."
Karen Hovhannisyan's lawyer Sargis Khachatryan applied to the Prosecutor's Office, stating that violence had been used against his client. A criminal case has been initiated. In a conversation with Forrights, Sargis Khachatryan did not want to give details or names, or answer the question of who beat and tortured his client, saying that the latter has constraint and did not authorize him to make publicise those data.
"In Nubarashen penitentiary, in the Convicts' hospital, the diseases arose as a result of wrong medical care, and a criminal case was initiated in connection with it. He told me that he had contracted the disease as a result of the torture and that his health had deteriorated due to the wrong treatment. The case has been initiated in the Investigative Committee," Sargis Khachatryan told Forrights.am.
To the question what Karen Hovhannisyan has told him, who tortured him in prison, the lawyer answered. "Karen Hovhannisyan told me that when he was arrested, he was taken to Nubarashen penitentiary in 2018, where he was tortured by the employees of the institution. As to why, I cannot say. From there, he was immediately taken to the Convicts' hospital. The right part of his body was paralyzed. His leg and arm do not function. He was confined to a wheelchair. I have motioned to initiate a criminal case." And why was he beaten; were they demanding hims to plead guilty? "Other details are being clarified by the investigation. I do not want to reveal the circumstances related to the beating, because my client did not authorize me to publisise those circumstances," the lawyer said.
Syuzan Simonyan