After being searched for 7 months as a missing person the body of Lieutenant Colonel Arthur Hakobyan, Chief of Staff of the Jrakan (Jabraili) military unit of the Artsakh Republic, was found on April 21. For many of us, he became famous from one of the reports prepared by "Zinuzh" [military TV program] during the war, where he was saying: "Hit them, hit them."
Hakobyan was appointed head of the Jrakan military unit headquarters in February, 2020. The 37-year-old commander had studied at the Airborne Military Institute in Ryazan, Russia in 2001-2006. A Sniper School was established in Armenia in March, 2011, and he became a senior professor at the school, then headed the school. He studied at the Frunze Military Academy in Moscow from 2017 to 2019. He was appointed Deputy Commander of the Martuni-2 military unit of the Artsakh Republic in August, 2019.
According to the lieutenant colonel's father, Davit Hakobyan, he regularly talked to his son during the war, but he knew he could not ask many questions.
"It was not us who was calming him, but he was comforting us," recalls the father. The last time Arthur's voice was heard, was by his 6-year-old son, when, after midnight, the lieutenant colonel called home, asked to wake the boy up and spoke to him very briefly. Davit Hakobyan is sure that his son already knew what was going to happen and called to hear the boy's voice for the last time.
"He knew what a war meant. There are few people who have gone through military path like him. Take a look at his biography and you will understand how well he would have imagined everything."
According to one of the hypotheses, Arthur was killed on October 5, during the attack on the military unit. He personally drove out to meet the enemy. After that, the Armenian armed forces withdrew from the territory of Jrakan and the details of what happened are no longer known. The lieutenant colonel was posthumously awarded the Order of the Battle Cross of the 1st degree.
The 7-year-old son found out about the news of his father's death recently, when, entering the living room, he saw the program about his father being shown on TV. He did not say anything to the family… he just left the room.
At the entrance of Garni community of Kotayk region you can see a big poster with Hakobyan's photo, which has an inscription "You have won!". This community suffered eight casualties in the war.
Ani Gevorgyan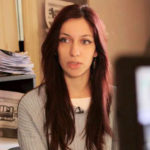 Ani Gevorgyan is a journalist, photographer, and the winner of the Freedom of Speech Award. She has participated in photo exhibitions at the UN headquarters (New York) and the Geneva office, the Palace of Europe (Strasbourg), Paris, Rome, Berlin, Vienna and elsewhere.