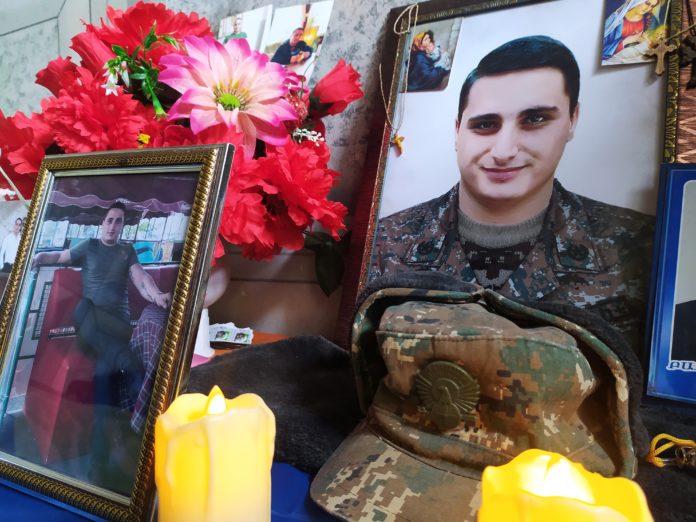 "I talked to him on the 6th of the month, after 10:30. He said, 'I am in Hadrut, I can't talk long'. Then we learned that my child had been taken to the village of Khndrstan in Aghdam, then taken to the outskirts of Shushi, to the cemetery street. The commander, his name was Nerses, left them and said, 'Choose your destiny yourselves.' He left the 18-19-year-old children there and fled. They all died… on the 7th of the month, when, according to the Ministry of Defense, Shushi was no longer under our control. How could they, how did their conscience allow it? They say that commander also died while fleeing. God did not want the one who put the children in the meat grinder to survive," Mrs. Karine, the mother of the killed soldier Taron Nersisyan, told Forrights with tears in her eyes.
21-year-old Taron was one of the servicemen who died on the outskirts of Shushi on November 6. He was drafted just a month ago, was serving in Hadrut, then, due to the war, was transferred to the frontline.
Mariam has raised her only son alone all her life:
"My child was drafted not voluntarily, but was forcibly kidnapped by the military police on August 28 and 5 days later was sent to Karabakh. I could not see my child, they took him away and did not give me any opportunity to see my Taron. They took him, and my child never came back… I kept him expensively; they buried him cheaply."
During the war, the mother and son were in constant contact, although Taron did not say anything definite, but just hearing her son's voice was enough for Mrs. Mariam. The last phone call came from Taron on November 6…
"My child was trying to inspire me with hope, 'Mommy, dear, be well, keep yourself strong, I will come back home, purchase a house so that we can live there together'."
According to the mother, eyewitnesses tell that her son abducted his six fellow servicemen from Grad [122 mm multiple rocket launcher] and hid them behind rocks, then left to help the others, but… never returned.
The news of the boy's death was officially announced to the relatives on November 9. On the day of the end of the war [the same day, November 9], Mrs. Mariam called the Ministry of Defense, then passed a DNA test, and received the final answer about her son on November 17:
"We wanted to go to Stepanakert on that day; they called and said, 'Do not go, look for your son in Sevan morgue.' Then they called again in half an hour and told us that Taron was in Metsamor now. We found our child in the first car, recognized him from his birthmark and a breast tattoo. His face was not unrecognizable, but his right leg and left leg were not there. But I would be willing to have him disabled, amputated, blind, but alive, but breathing, filling surroundings with his presence. I am empty without my child…".
Days after the death of her son, Mariam received 700․000 AMD [about $1,300] as funeral expenses, the rest of the money is promised to be transferred in the upcoming days. Three months later, there is no progress on this issue. The "Soldiers' Insurance Fund" blames the Ministry of Welfare, the latter – the Fund.
For a mother who lost her son, money is not consolation; it is just a necessity in this ubiquitous mess․
"I want to go to my child's grave, but I do not have the opportunity. They gave a few thousands and seem to be satisfied with that, but my child is not a puppy; why shouldn' I be able to buy some flowers for my child today, to put next to his picture? And, I had to put artificial flowers… It is three months since they repeat 'Be patient, wait, maybe in a month, maybe three', but I am a mother who cannot visit her son's grave with dignity. They call on February 5 and say 'we are sorry;, you will receive money in coming days', and, again, nothing after that too".
In a conversation with Forrights, Alexander Avetisyan, Head of the General Department for Health, Social Protection and Veterans Affairs of the RA Ministry of Defense, clarified that a special procedure is established for each killed serviceman, the necessary package of documents is being collected. According to the representative of the Ministry of Defense, Taron Nersisyan's package was prepared 20 days ago and sent to the Soldiers' Insurance Fund.
The person in charge of the latter's Information Department mentioned that taking into account Mrs. Mariam's very bad social conditions, they would organize the money transfer more consistently and quickly.
The 53-year-old woman currently has only a sister by her side (her daughter is married and lives far away), to whose run-down apartment she moved earlier this year․ Mrs. Mariam, who was renting a place in Etchmiadzin with her son, was evicted two months after Taron's death due to insolvency. The woman also has cancer, the treatment of which she no longer has the strength to pay attention to:
"I want my child. I am waiting for him. I know he is no longer. But I am still looking for him. And waiting…"
Roza Vardanyan