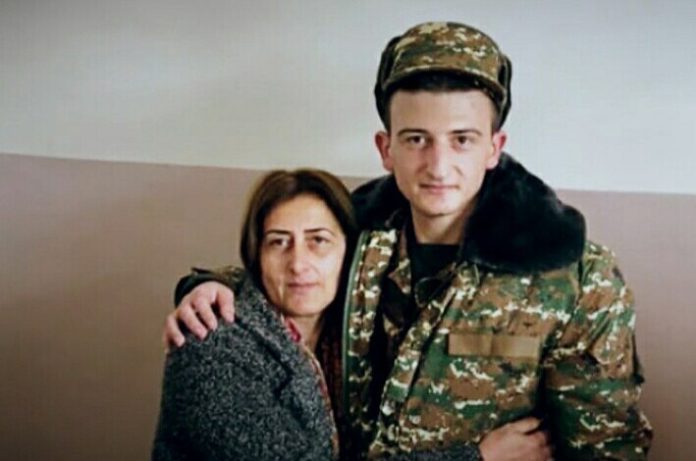 Mrs. Susanna, the mother of David Lyova Grigoryan, a hero who has shot down 15 tanks և one armored combat carrier in the Karakhambeyli-Fizuli section, learned from a news program on TV that her son was at the frontline. She learned about it when Artsakh President Arayik Harutyunyan, while reading the names of the awardees of the highest title of "Hero of Artsakh", pronounced David's name.
In a conversation with Forrights.am, Mrs. Susanna said that it was difficult to describe the feelings she had at that moment․ Worry and pride were mixed. The hero's mother said that even now "those emotions have not been separated," she is proud, excited, worried, sad, and prays that the war will end soon.
Artsakh hero Davit Grigoryan, resident of the Sardarapat community of Armavir region, has two sisters and a father who has left for work abroad. The hero's sisters and father were thrilled to hear about David's heroism.
After being awarded the highest title of "Hero of Artsakh", the "little lie" of the patriotic and sensitive David was revealed. His relatives thought that he was not in the frontline, as David had assured them so that the relatives would not worry, while during that period he had been creating victory with his own hands.
"I realized that if there was a war, and he was in the army, then he definitely participated in all that, but of course I did not know that he was at the frontline. He was saying 'I will not be in the frontline because they do not take us there'. But I knew what weapon he mastered, so when David's name was mentioned, I realized that it was he. I had indescribable feelings, which I cannot explain. I am very proud of my son. I talked to him last night," said Mrs. Susanna, adding that David does not talk much when he calls, he only says that he is fine, and he never talks about where he is and what is doing.
Mrs. Susanna says that everyone is proud of David, the flow of friends and family to the Grigoryans' house does not stop․ Everyone wants to congratulate the hero's mother.
Artsakh hero Davit is a student of the Department of Finances of the Armenian State University of Economics. Six months after enrolling in the university, he was drafted into the army. David shone not only on the battlefield․ He played sports, practiced karate and chess, had many victories and won many medals.
Speaking about her son, the mother says that he is very modest, stable and calm in character, so it was unexpected for many people of Sardarapat that David, who has such a calm character, could hit 15 tanks and one armored vehicle.
"He also does not like when people talk about his successes; he is modest, stable, attentive, and studied with excellent progress at school," the mother, Mrs. Susanna, describes her hero son, and at the end of the conversation said again that now she wishes one thing only: let the war end soon and our victorious sons return home safely.

Hasmik Baleyan