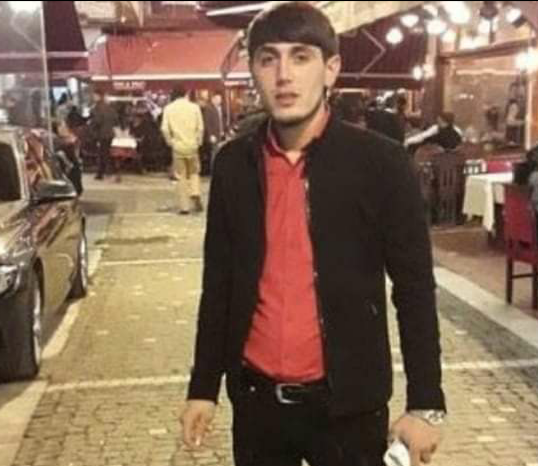 The police departments of Armenia are triangles, where a person disappears from the sight of his/her relatives. We will not say anything new, noting that the person may be beaten, not allowed to connect with the outside world, undisclosed cases may be attributed to him/her. The only pipe to the outside world is the lawyer. If the citizen brought to the department does not have money, and the public defender provided to him by the investigator is a poor lawyer, then what happens to that person is about the same what happened to Volodya Stepanyan.
The 28-year-old man was detained on suspicion of theft, without presenting a relevant warrant, was detained at the Yeghegnadzor Police Department for more than 3 hours, was beaten and denied access to the outer world. Volodya Sukiasyan has been on hunger strike since July 23, and has been on a water strike for the last four days.
His mother, Gohar Sukiasyan, who is currently in Russia, alerted Forrights.am about this. "My son has never been tried. From Russia, he left for Armenia during the April war to take part in the war. Then he came again to Armenia a year ago, to his bride, got married, and fell in a bad circle of friends. They stole. He was arrested on February 1, remained in custody for three months, and was released on bail. He has been free since June 1. "The prosecutor's office appealed the decision," she recalled. She learned from her daughter-in-law that they came after her son at night and took him away on July 16. Volodya went out earing slippers and never returned.
Volodya was called from a rented apartment on Tigran Mets Street by his friend Sargis, with whom, as Volodya's wife assures, he had recently met. Volodya left, went in slippers and did not return.
"I waited; he did not come. I was worried, I called my mother-in-law, who is in Moscow, at dawn they called from the police, they said Volodya was in Yeghegnadzor, they had detained him. I could hear my husband's shouting 'what are you making up on me?'" says Volodya's young wife, Alvard Arakelyan.
Alvard was infected with COVID-19 and was in self-isolation. Volodya had also isolated himself.
In the following days, Alvard could not speak to her husband, only exchanged two words three days later.
"My mother-in-law somehow contacted the investigator and said, 'At least, let him talk to his wife for a minute.' I finally talked to him. He said he had been beaten. We did not say anything else. He said, 'How are you?,' and the call was terminated".
On July 21, Volodya Sukiasyan was arrested and transferred to Armavir Penitentiary. His wife found out about it from the Public Defender named Margaryan.
"The lawyer told me that there was a theft, that Volodya had injured himself twice, but now his health is normal. He did not want to go to Yerevan to see my husband in prison. He complained, said why he had to go to Yerevan on a non-working day, that no one paid him for it, and advised us to go to a paid lawyer and call him less," says Alvard Arakelyan. They dismissed the Public Defender Margaryan.
We found out other details of the police methods from the conversation with Volodya's mother. "Sargis, who told my son that there was a job in Yeghegnadzor, had come to an agreement with the police to blame for the many unsolved cases my sun under torture. The stolen thing was found in Sargis' car, but he was released, and my son and his friend Khachik were caught and tortured and taken to the prison, where the forensic doctor said "Write that he fell."
Volodya is on hunger strike and water strike. His wife applied to the Ombudsman's Office. However, the Office did not help, and even hindered by giving false information to the family, saying that a lawyer visited Volodya and saw that his health was normal. In reality, however, no lawyer visited him. Volodya Sukiasyan was beaten by the police, the investigator tried to "hang" many unsolved cases around his neck. The injuries inflicted by the police in Armavir penitentiary institution were registered. The reason given was that Volodya allegedly received the injuries due to falling.
"There is no ban on my son's visits and calls. I want to know then why they do not allow him to call, why they do not appoint a new lawyer, or, they appoint, but the investigator does not include the new lawyer," Volodya's mother asks.
Today is the 26th day of Volodya Sukiasyan's hunger strike.
Penitentiary Service Spokeswoman Nona Navikyan told Forrights.am: "Volodya Sukiasyan, a detainee in the "Armavir" penitentiary of the RA Ministry of Justice, has been on a hunger strike since July 22, and has refused to drink water since August 11. Although he is under control of doctors, he refuses any medical help. The hunger strike is connected with his criminal case. He never applied to the administration for calls. Let me also mention that nobody has visited Sukiasyan from the ombudsman's office yet!" The police advised to talk to the investigation committee.
Syuzan Simonyan