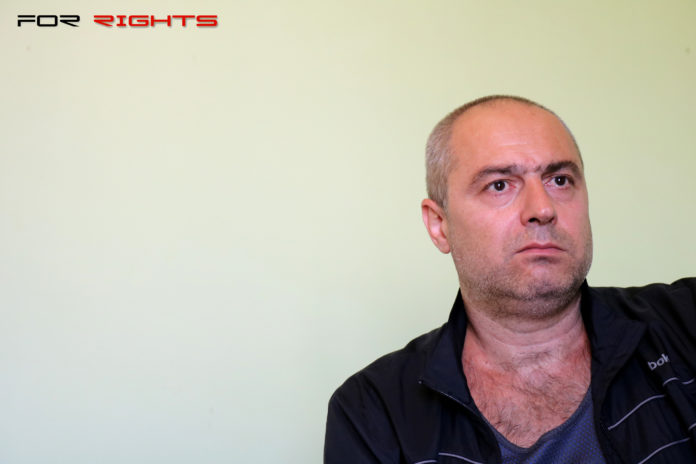 "Let the word 'lifer' be removed from us; if they do not want to release us, at least let's get rid of the word. In many ways, the words "sentenced to life" cut lots of things; they do not let us go towards freedom, they take us to the darkness, no light penetrates through those words."
"Now, am I an Armenian or a Turk? Am I captured by Turks that such a verdict has been reached?"
Forrights met with 49-year-old Tigran Avetisyan at the Artik penitentiary where the convict had been transferred five years ago. He was the second sentenced to life inmate whose regime has been changed from closed to semi-closed. At that time, it was an unprecedented occurrence for the "lifers".
Tigran is in prison for what happened 25 years ago. The events are still fresh in his memory, but he did not want to recall them:
"It is past; no sense of going back."
Going back, however, he did. Most of the volumes of the criminal case "Vahan Hovhannisyan + 30" are destroyed today. Some of the case materials –documents and papers– were kept by Tigran's sister, Sonya, who kindly provided them with a request for a little careful handling of the 25-year-old papers turned yellow.
On the night of August 1, 1995, Tigran Avetisyan and his friends were driving in two cars down the Leningradyan Street when they were stopped by a police group, then a dispute followed. Except for Tigran, everyone got off the car to find out what the problem was. A shot was heard, after which Tigran, refilling his weapon, got out of the car and saw a gunman pointing at him. Tigran shot to the ground, after which everyone fled.
Days later, the group learned from newspapers and television that they have been accused of "betraying the homeland," that people have been recruited since June to seize power and, on that day, they were transporting the ammunition they had collected for that goal, but the intention was prevented by police, as result of which two policemen were killed and one injured.
Tigran voluntarily went to the police station, where he insisted that there had never been such an intention, and that they had learned about the police deaths from the newspapers. Tigran was, however, charged with the deaths of two policemen.
"One cannot imagine how Tigran was beaten and smashed, and he had concussion. He was unconscious under his pre-trial testimony and did not know what he was signing under," the convict's sister tells Forrights.
Tigran did not plead guilty in court. He declined his pre-trial testimony, noting that he had shot only once, on the ground. The examination showed that a policeman was mortally wounded as a result of ricochet, but this was ignored by the judge in court, and they did not know at all about the death of the other policeman:
"The trial proceeded wrongfully. It was custom made, everything. They did not tell about ricochet, as they should have done, since, if they said, it would have been considered second degree murder. The judge himself told that he ignored the fact that the bullet got the policeman from the ground. No matter what we said at that time, they wouldn't listen," Tigran recalls today.
The trial lasted 2 years; As a result of the verdict, Tigran Avetisyan and 30 others were sentenced to imprisonment, the most severe punishment being Tigran's death sentence.
The trial lasted 2 years; as a result of the verdict, Tigran Avetisyan and 30 others were sentenced to imprisonment, the most severe punishment being Tigran's death sentence.
"Now, am I an Armenian or a Turk? Am I captured by Turks that such a verdict has been reached?"
"Aghvan Hovsepyan used to say 'we were wrong to sentence you for life'."
Tigran Avetisyan waited for his execution for 6 years, until RA second president Robert Kocharyan changed all life sentences to life imprisonment. During those years, all those involved in the case were released, with only Tigran remaining in prison.
"The state took its humanitarian step, but did not realize that it had changed [the situation] from grave to graver. They didn't want to shoot us under the wall, but it happened for years. They thought we were going to die and wouldn't be able to talk, but there is a God above: if you are not afraid of us, are you not afraid of God?" asks Tigran.
Tigran expressed conviction that after the amendment of the law the death penalty was to be replaced not by life imprisonment, but by the severest sentence of 15 years, but that was not what happened:
"That law was not enforced because of the October 27 case [on that day of 1999, a group of gunmen entered the Parliament and killed several deputies and cabinet members of Armenia including the Prime Minister and the Speaker of the Parliament], they linked us to that case. If they had passed the law, they would give 15 years in the case of October 27 too, and they didn't want it. They wanted a death sentence for the 27th case, and we became the victims of it. We should have left in 2003, but we are still here," the life-sentenced convict explains.
Tigran's hope of being released again woke up in 2010, when then Prosecutor General Aghvan Hovsepyan proposed adopting a law "On Amendments and Additions to the Criminal Code," setting a maximum new sentence of 20 years in prison instead of the previous 15. The aforementioned provision of the law provided for mitigation in the case of life prisoners, but the adoption of that law did not change anything:
"Aghvan Hovsepyan was saying that they were wrong to sentence me for life, they could have given 18 years or 15 years. Well, the law has been changed, let them do it by the law now," Tigran says angrily.
"The state is afraid, does not want to be held responsible for its mistakes"
The life sentenced prisoner is tired of hearing from authorities for years and years that their cases will soon be reviewed. According to him, the state is afraid, does not want to be held responsible for its mistakes. Tigran suggests another solution to the problem: if the state does not want to see them in freedom, let them at least remove the label of "life sentenced":
"The words "sentenced to life" cut lots of things; they do not let us go towards freedom. The state says we have given you life sentence, but does not think it has led us to a painful death. What kind of a life is this? It would have been life if they gave us punishment retroactively. Retroactive enforcement worked in the entire world except Armenia."
The convict also referred to the grading system set for parole. He said that working in a closed-door setting is simply impossible because there is no proper work, while the system places huge significance on the convict's work:
"I have applied for parole, my application is pending, but in that system, which says 'to work', did they think how the prisoner was going to work? There is no job here, this is a closed-regime system, there's no work in it."
The penitentiary service informed Tigran that according to the procedure for early release, the probation officer will visit him soon, but the convict sees a flaw here too. According to him, people outside cannot form an opinion about people inside:
"The convict is best known by an employee of the institution, he is the one who is in contact with us every day, communicates with us every moment: neither the minister knows us, nor the probation officer, nor you. The probation officer can come and sit with me for half an hour, with no sympathy, and come to a negative conclusion. That's wrong," says the convict.
Today, Tigran Avetisyan is in semi-closed regime, using the new law he applied for his transfer to a semi-opened regime, and is also awaiting a response to his conditional release request:
"The state thought we would only get out of here in coffins, but it was mistaken."
Roza Vardanyan