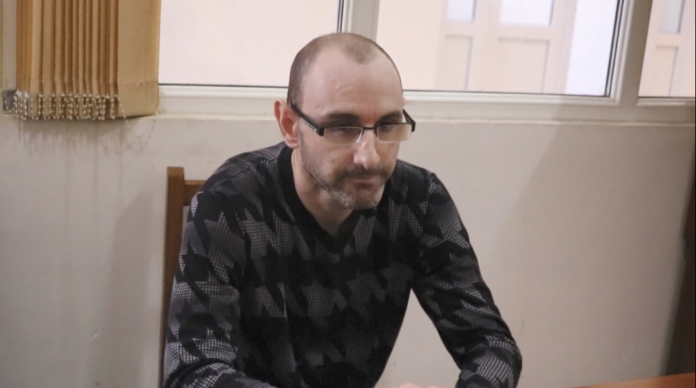 Life-term prisoner Artyom Safaryan, who is serving his sentence in the Armavir Penitentiary, is unable to enjoy his rights stipulated by law and meet his relatives. His family, his father, mother and wife live in Vanadzor, in difficult social conditions and are unable to cut long roads and reach Armavir to visit him. Artyom's retired parents have health problems and this also is a serious hindrance for them. When talking about his parents, pale and skinny Artyom becomes fretted, his voice trembles.
"Last time I saw my mother and brother was in December 2017. I did not have a long-term visit in 2018, only my father visited me once using the money he saved from his pension…" Artyom, who has been in prison for 14 years, tells Forrights.am. Even the most disputable verdict problem, which condemned him to life imprisonment, is not a priority for him. The first issue for Artyom is ability to meet with his family.
Artyom Safaryan was sentenced to prison in 2005. Until April 2016, he was in "Nubarashen" penitentiary and later was transferred to Armavir Penitentiary where he is currently. He is trying to move from Armavir to Vanadzor penitentiary for more than a year and a half, to be close to his family.
The Armavir Regional Court of First Instance rejected Artyom's application for transfer this February. The initial reason was the lack of conditions provided for life-term prisoners in Vanadzor, and later–the hostility towards Artyom in Vanadzor penitentiary, which Artyom Safaryan considers groundless.
Forrights sent an inquiry to the Penitentiary Service of the RoA for understanding the reasons for the refusal to move the prisoner. They received the same response: there was hostility against Artyom Safaryan not only in the Vanadzor penitentiary, but also in Vanadzor in general, which was related to the murder he committed, so Artyom Safaryan cannot be safe in Vanadzor penitentiary. However, the penitentiary service does not cite names.
"If there is hostility against me at Vanadzor penitentiary, let them say who this enemy is, but they do not say anything because it's a lie, just an excuse for not moving me. But even if I had enemies, why would it hinder the move if I agree to live alone in the cell? I am a life sentenced prisoner, they just have to take me for a walk for one hour and bring back to the cell. "
Artyom has impression that someone does everything in the penitentiary service to prevent his transfer to Vanadzor, though Artyom's claim is entirely within the law.
Artyom Safaryan complained against the court decision, after which the HRD examined the complaint. The Ombudsman's decision clearly states that Artyom Safaryan's fundamental right of having personal life with the outside world and with his family has been violated. The prison administration does not like the prisoners complaining, and this can become a serious reason for rejection or even punishment.
Human rights activist Zhanna Alexanyan also thinks that the placement commission has created a false reason for not transferring Artyom Safaryan.
"It is not the first case that the Penitentiary Service and the placement committee provide such groundless reasons for failing to meet the legal requirements of the convicts. It is unclear how the hostility in the city of Vanadzor would threaten Artyom Safaryan's security. But it is not even important: the state must ensure the safety of convicts regardless of any circumstances. This is just another case when the convict is punished this way for his/her persistence."
Besides the question of transferring Artyom, there is also a problem with the penalty imposed on him. In 2005, the First Instance Court sentenced Artyom Safaryan to 15 years in prison.
"The judge wanted to sentence me to 13 years, but the aggrieved party did not agree with it and the judge sentenced me to 15 years in prison," recalls Artyom.
Two years later, in 2007, the Court of Cassation overturned the appeal of the victim's successors to assign life imprisonment, but the investigator attributed not relevant and unreliable facts into the criminal case, and Artyom's sentence became life sentence.
Like all life-sentenced prisoners, Artyom Safaryan hopes that Prime Minister Pashinyan's decree about individual reviews of the life sentencing cases will at last be reviewed and there will be fair trials.
"Now, when we make a complaint or appeal to any body, we know that the application gets out these walls of penitentiary and then reaches to the addressee. Previously, our applications were simply torn up inside the penitentiary institution or, if they were not torn up, they simply remained unanswered."
Despite of his verdict given in such suspicious circumstances, Artyom's only goal is to be close to his family.
Raf Yengibaryan