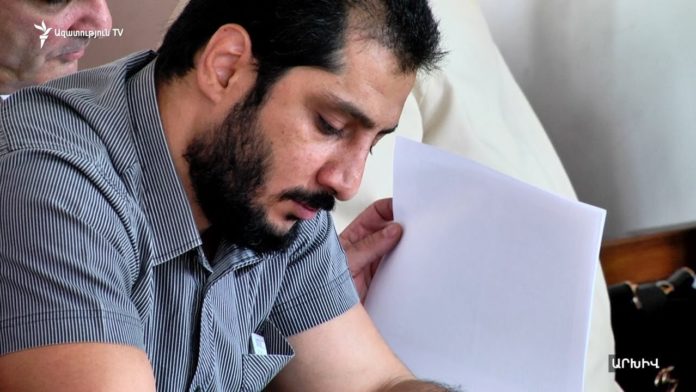 On February 22, after the last court hearing on the Nork-Marash militant group case, the defendant Artur Vardanyan was transferred to the Mikayelyan Hospital in an extremely severe condition. His wife, Ashkhen Sumbulyan, told Forrights.am that her husband had been ill-treated at the prison hospital, after which Arthur's bleeding began, his left leg and his arm weakened, he could not eat, his intestines became obstracted.
It is already two years since he constantly has fever, up to 38 degrees. On February 22, his condition worsened so much that they immediately took him to Mikayelyan hospital right from the court, but for three days only. The doctors prescribed hormonal treatment. After the holidays he was taken to an isolator, where there was no doctor's supervision: he was taking hormones without a doctor's supervision. On February 22, his condition worsened; he hadn't eaten for two weeks, constantly was vomiting and once he almost swallowed his tongue right in the isolator, tells the wife, Ashkhen Sumbulyan.
Seh has come to the conclusion that a political decision has been made to punish her husband because all other defendants who have gone through this same case have been released on bail about a year ago, but her husband who is sick, tortured and almost dying, is refused to be released.
"No action is taken to bring the judges to the legal field. If Arthur was accused of planning a change of government – something that has already successfully committed [by others], why do they blame him for it? Pashinyan says there are no political prisoners, I want to understand whether Arthur is not a political prisoner if he is blamed for planning to change the political power,"cAshkhen says indignantly.
There were six motions to change Artur Vardanyan's deterrence, and all of them were rejected. Levon Baghdasaryan, Artur Vardanyan's lawyer, will make the seventh motion in March 15 court session.
This is the position of the government
When the amnesty bill was being discussed last year, Ashkhen Sumbulyan appealed to government members Alen Simonyan and Lena Nazarian asking for personal guarantees for the change of her husband's deterrence form, but was refused. Lena Nazaryan said she did not want to give personal guarantees for a case with political context.
"Alen Simonyan said he would go and see Arthur and let me know, but he has not called me so far. I called him and he said in a surprised tone that with such a move he would go against his teammates. Only Naira Zohrabyan wanted to help us, but she was not allowed to meet with Artur Vardanyan," assures the wife.
The deputy speaker of the National Assembly Alen Simonyan explained the rejection of personal guarantee as follows: "Yes, she asked for personal guarantee and I refused. When I studied different information, I decided to refuse to act as a guarantor." Naira Zohrabyan said she did not really meet with Vardanyan. "So far, I managed to ask to let his wife to be with him: that was the important thing right now. Let him receive his treatment at this moment and then we will talk about further steps."
The position of the deputies was directly influenced by the opinion of Justice Minister Artak Zeynalyan, which he had stated during the National Assembly session. When the amnesty bill was introduced to the National Assembly and it became clear that, unlike Sassna Tsrer group, the amnesty will not be applied to the Nork-Marash group, Levon Baghdasaryan, the lawyer representing Artur Vardanyan's interests, asked the MPs, including Alen Simonyan, to find out the reason.
"They called for a quick session and asked questions regarding the issue to the Justice Minister Artak Zeynalyan. He told the MPs that that was the position of the government. Amnesty is first of all legal, non-political document, and thus the principle of equality has been violated, which is stipulated by the Constitution, and direct discrimination was employed," says Levon Baghdasaryan.
The Right to Die is protected
Former human rights activist Artak Zeynalyan is recently perceived as a state activist defending the right to die. His expressions, 'who goes on a hunger strike, should also know that he/she may end with death, or the abandonment of bread and water is a human right,' has caused heated debates.
The state's attitude towards hunger strikers has aggravated after January 26. On that day, convicted Mher Yeghiazaryan, who had been on hunger strike for 40 days, died in "Nubarashen" penitentiary. Artak Zeynalyan extended his condolences to Mher Yeghiazaryan's family. He explained that during the whole hunger strike, Yeghiazaryan was under medical supervision, but he has not yet commented on why he had not been transferred to a civilian hospital, and why there were no doctors at the time of his death.
The lack of doctors and psychologists in prisons that is invoked as an argument in such cases does not reduce the responsibility of the state and, first of all, the Minister of Justice for the deaths of detainees. Recently, the ruling party's MPs rejected the bill authored by a fellow MP Edmon Marukyan, the leader of the "Lusavor-Hayastan", that was proposing a day assigned in pre-trial detention to be counted as one and a half days.
Even after Marukyan changed his draft bill extending it only to former detainees and convicts, and the MPs rejected the project, arguing that it was a hidden amnesty. "Humanism, justice are failed fields," Edmon Marukyan described briefly.
Syuzan Simonyan