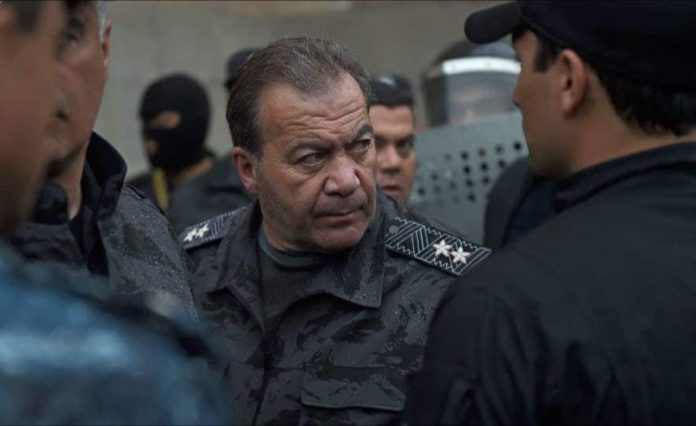 General Levon Yeranosian, the controversial former commander of Armenian interior troops, could be prosecuted over the use of force against anti-government protests in Yerevan last spring, it emerged on Tuesday.
A spokeswoman for the Special Investigative Service (SIS), Marina Ohanjanian, told RFE/RL's Armenian service (Azatutyun.am) that the law-enforcement agency has summoned Yeranosian for questioning. She gave no details.
Yeranosian's lawyer, Tigran Safarian, said his client is suspected of ordering riot police to use excessive force against the protesters led by Nikol Pashinian on April 16 and April 22. He has signed a formal pledge not to leave Armenia pending investigation, said Safarian.
In the April 16 incident, Pashinian and hundreds of his supporters tried to get through a police cordon and approach the parliament building in Yerevan in a bid to prevent the country's longtime leader, Serzh Sarkisian, from holding on to power. Security forces used stun grenades and batons to stop the crowd. Pashinian and several other individuals were injured in the clash.
Pashinian and his top associates were detained on April 22 as they led an anti-government demonstration elsewhere in Yerevan. The nationwide protests only intensified in the following hours, leading Sarkisian to resign on April 23. His resignation was announced shortly before the release of the detained oppositionists.
Pashinian fired Yeranosian just days after being elected prime minister on May 8. Armenian human rights groups and media had for years accused the general of serious human rights violations.