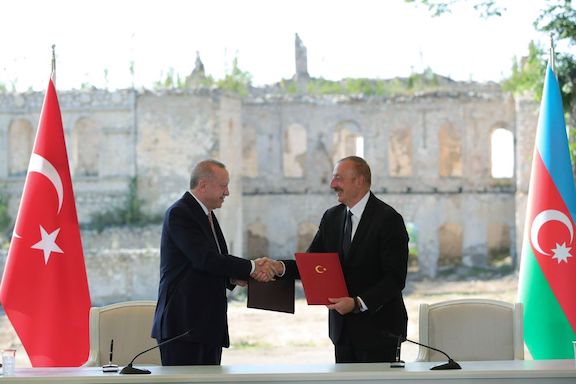 Turkish President Recep Tayyip Erdogan and Azerbaijani President Ilham Ali yesterday met in Shushi, after which they signed a declaration on the establishment of relations between Turkey and Azerbaijan, including the provision of mutual military assistance.
After the signing of the document, Ilham Aliyev said․ "The signed document contains a reference to the Kars agreement. This document determines our future policy. It reflects all aspects of bilateral relations, especially the points of cooperation in the field of military industry and mutual military assistance. It means we will always be together, we will protect each other's security.
"The second point is the points related to the creation of the Zangezur Corridor, which is also expressed in the signed document, which speaks about the importance given to this issue," Aliyev stated.
The agreement also contains a security clause, which, according to the Andaolu news agency suggests that "In the event of a third state's threat to the independence or territorial integrity of any of the parties, the parties will provide the necessary assistance to each other."
The parties make joint efforts to resolve regional and global security and stability issues, it reads, adding "the parties state that the military-political cooperation developed between the two states and in line with their interests is not against third states."
Erdogan also announced plans to establish a Turkish consulate in Shushi to facilitate Ankara's efforts to contribute to "Azerbaijan's efforts to reconstruct the region in the way we did for the liberation of its territories."