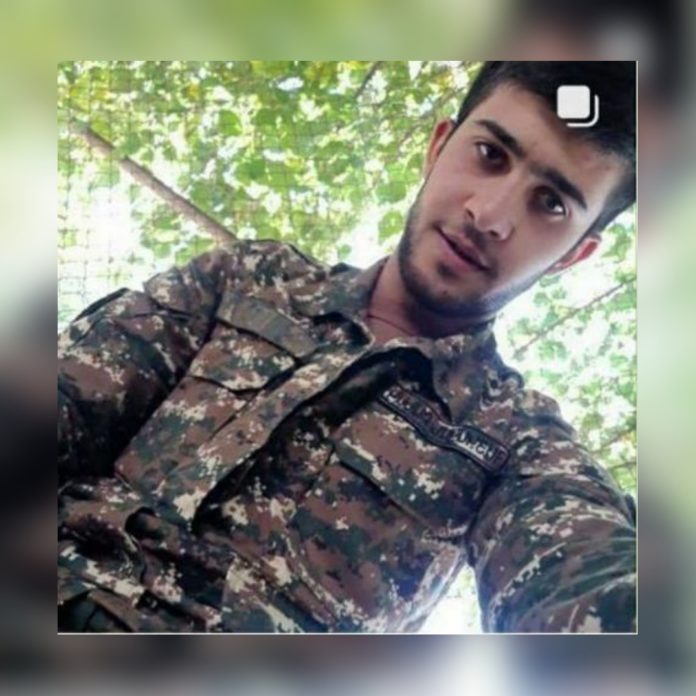 The body of 19-year-old soldier Hovik Veranyan from Gagarin village of Gegharkunik region, was handed over to his family only 80 days after his death. Until the last moment, the family believed that the boy was alive, that he has ran during the car explosion and was saved:
"On October 21, at around 10 o'clock, he called home, talked to his father, informed him that they were moving to another location, and… that was it. After that, we did not receive any calls from him. Three hours later, the enemy opened fire in the direction of their two cars. At first we were told that our son had escaped and was saved. We looked for him in all hospitals of Armenia. We hoped until the end that he was alive, hidden somewhere. Alas!…" Hovik's aunt Susanna told during her interview with us.
Hovik left for service in December 2019, first to Mughni air defense, six months later — to one of the military units of Artsakh's Hadrut region. During his service he was awarded numerous letters of appreciation, honors and a "Medal of Courage" order.
On September 27, when the enemy started active hostilities, Hovik was a soldier of nine months.
Hovik became highly skillful in handling the "Igla" weapon and, in the very first days, he stood out by causing technical damage to the enemy. Hours later, he learned that his childhood friend Tigran has been killed:
"Hovo took his friend's death very painfully; he was under stress for some time. A few days after that incident, his other friend was injured: his leg was amputated… he was suffering equally painfully with his friend. He did not know that his case would be even worse…".
The family was in touch with Hovik almost on daily basis, but could not learn much․ The boy was sharing information only with his brother Hayk. All he was telling others, was 'Well, all we do is hitting birds, don't be afraid, everything is normal'․
"In reality, as it turned out later, nothing was normal… Later, his friends told that he had somehow got out of the blockade twice, hit an enemy helicopter with his handgun… But my Hovo was a modest boy, he did not tell us anything. He thought he would come back and, perhaps, one day he would tell us."
On October 21, when Hovik's detachment was being moved from the village of Zinavan in Hadrut to another place, they had prepared two cars, one of which was for transporting the wounded, the other car was for them. They were five people. Enemy's drone hit both cars. Unfortunately, no one survived, although Hovik's family was told that the boy ran out of the car and escaped․
"We were told another version too, according to which they were not hit by a drone, but fought face to face with the enemy with their handguns and died during that battle."
For almost 80 days, the family did not receive any information from Hovik. They were looking for him in all the hospitals. The boy was found only on January 10 through a DNA examination. Later, it turned out that Hovik's body had been transferred from Stepanakert to Armenia on November 22:
"We buried my Hovik on the anniversary of his swearing-in ceremony. We did not agree to bury him in Yerablur [the cemetery for killed in action fighters]; it was far away, our son should have been with us. We buried him next to his dead friend Tigran. This way, they reached each other…"
In August, Hovik's younger brother will be drafted into the army.
Gagarin village lost five victims in the second Artsakh war. The victims already have classrooms dedicated to them in the village school.
Roza Vardanyan