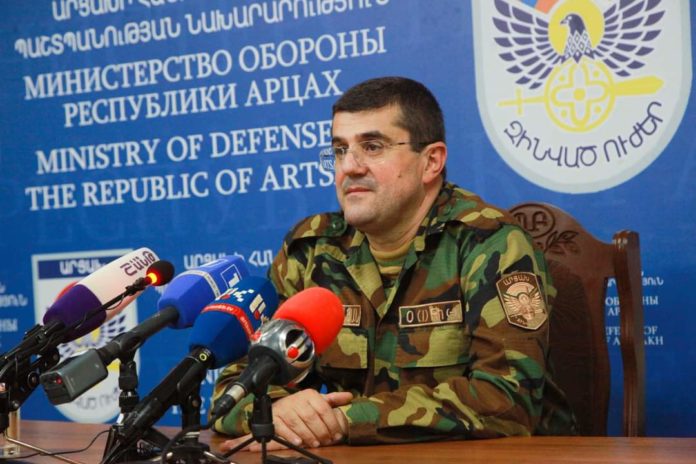 President of Artsakh Arayik Harutyunyan has addressed the nation today, presenting what has served as a base for making a decision to stop the war.
He reminded that in the morning of November 8 he posted a photo from the Stepanakert square and stated that it has been one of the hardest daybreaks of his life. "Why I have announced that without opening the brackets? Because on November 7 we have completely lost the control on the city of Shushi. Today I want to announce that I perhaps had the most difficult night in my life, in case when I experienced many difficult days by losing many friends in 1992-1994, whose last word has been in my hands. But I managed to find a strength, concentrate and make decisions. But the decision, which was made yesterday, I don't know what assessment the history will give, but we had to", the President of Artsakh said.
He explained why: "During the military operations which lasted 43 days we have lost Fisuli region, Jabrayil, Ghubatlu, Zangelan, Hadrut region mostly, a part from Martuni region, Askeran region and especially Shushi. The battles were taking place on the outskirts of Stepanakert, 2-3 km away. If the military operations continued in this pace, we would have lost entire Artsakh within several days, we would have much more losses", the President said.
He said for several days it seemed the Armenian side managed to be defended from UAVs, but in the past two days the adversary has applied new technologies, new UAVs and caused much more damages to the Armenian troops.
"Definitely, we didn't fight against Azerbaijan only. Not only the Turkish officer staff or equipment, but also Turkish military, as well as terrorists and mercenaries have participated in the military operations", he said.
"But everything is ahead. Artsakh, Armenia, the Armenian people have experienced many difficult days within the course of the history, but managed to move on in the right way by making clever decisions in the future and recording success. And who said that everything is over? Everything is just starting. We will have an opportunity to make a more sober decision, but for that we need solidarity firstly in Armenia, Artsakh and within the Armenian people. We have a dream, a dreamed homeland, therefore we need to keep the solidarity and refrain from phenomena which are not typical to the Armenian people. We have opportunities of making civilized decisions, holding discussions. Everything is yet starting, I don't want to open the brackets, everything, we have not been defeated, everything is ahead, we should think, think again and assess, and again make decisions", the President of Artsakh said.