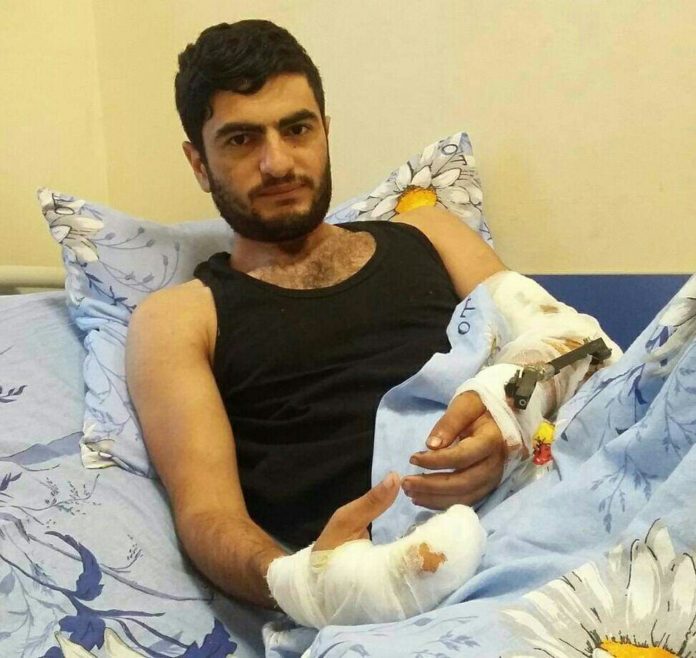 Manuel Manukyan, a 24-year-old native of Irind, has already participated in two wars. For the first time, he fought against the enemy during the April war (2016), when he was serving in the army. This time, after hearing about the enemy's offensive operations, on September 27, right on the first day of the wide-scale Azeri and Turkish attacks, Manuel and his 6 friends volunteered to go to the battlefield to defend the homeland.
In a conversation with Forrights.am, Manuel mentioned with pain and sorrow about the death of one of his 6 friends, Artak Margaryan, on the battlefield. He said that his heart was aching for the loss of each of the heroic boys. "Their heroism obliges all of us to keep our homeland strong."

On September 30, during the hostilities, Manuel was wounded: Manuel's two hands and the right leg were injured. Manuel has shrapnel wounds and fractures, but he is unbreakable, his fighting spirit is high. Manuel's left leg was not injured: he says, there was a prayer book in the pocket on the left leg of his trousers and that is what protected and saved him, "the Divine power".
After receiving an injury, Manuel was transferred from Artsakh to Yerevan to receive hospital treatment. He is visited by acquaintances and strangers alike who knew about him since the April war. When Manuel is called a hero, it embarrasses him. He says he is not a hero: he just went to defend his homeland.
Manuel's mother, Mrs. Anush, also believes that her son was saved by God. The mother modestly presents her son: he went to fulfill his duty to the homeland. She says that all the brave martyrs who dedicated their lives to the homeland on the battlefield are heroes.
"My son loves his people and homeland unreservedly. When Manuel had already arrived in Artsakh, only then I learned that he has gone to the front. Of course, it was not surprising for me: when the homeland is in danger, he forgets about everything and goes to fight․ He is like that. Now I pray that the war will end soon so that everyone can return home safely and that our brave boys who were wounded will be healed," said Mrs. Anush.
Manuel knew about the hellishness of war since April 2016, but this time too he left for the front, the position where he had fought during the April war. He said that he had gone to that position because he knew the terrain well, the fight against the enemy would have been more effective.
"As I was a conscript and saw those days, so do our new soldiers on the front line now. They are my brothers; I ought to be by their side. In the days of April War, our other brothers came and we fought together against the enemy. We would feel as traitors if we did not go and be with our boys, especially when I saw it all and was realizing that there was a great need for help, presence and support," says Manuel.
Manuel tells about the bravery of a 19-year-old soldier from Gavar, whose name he unfortunately does not know. Now he wants to find his family, to tell them what a heroic child they've raised.
"He hit three tanks while bringing back one of our positions. We were going to hit the fourth tank. The father of a brave young man from Gavar had been in the positions voluntarily. However, the accursed explosion occurred as a result of which I lost three friends next to me. Unfortunately, he was one of them, our young hero," says Manuel sorrowfully.
He says 18-20-year-old boys fight bravely, without panic.
"Our brave people are fighting on the principle of 'no step back'. I am amazed at their courage. They gain divine power in defending their homeland. Our brave boys and men do not spare their lives for the sake of the homeland, and we are obliged to remember their heroism and be united in these crucial moments in order to be able to win."
All the wounded soldiers want to recover straightaway and return to the battlefield. Manuel explained the supernatural power pushing these heroic boys back into battlefield.
"When you return from the front and see innocent children, civilians, mothers, sisters there and you realize that their lives are in danger, as an Armenian person, as a man, you realize that you have something to do. My friend left his wife and minor children here and was killes. He died for the sake of his family, homeland. We are the defenders of this homeland; this is the reason that our boys move to the frontline to defend what is sacred for them."
Hasmik Baleyan