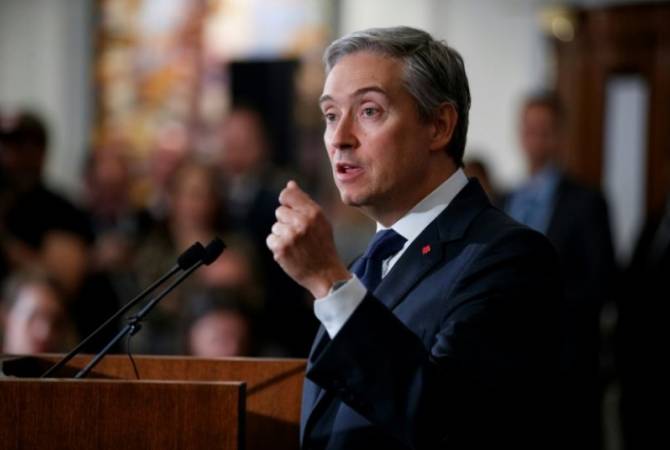 Foreign Minister of Canada François-Philippe Champagne has announced about the suspension of arms supplies to Turkey, particularly devices used for UAVs.
The Minister added that there have been several allegations about Canadian technologies being used in Nagorno Karabakh conflict. ''Upon learning these allegations, I immediately directed the Global Affairs Canada to investigate these claims'', he said, adding that ''I have suspended the relevant export permits to Turkey so as to allow time to further assess the situation''.
On October 3 Prime Minister of Canada Justin Trudeau announced that Canada has to clarify how the military equipment supplied to Turkey have appeared in Azerbaijan. Experts had examined the footage of the Azerbaijani air force and come to the conclusion that the UAVs used by Azerbaijan were equipped with targeting and recording systems produced by L3Harris Technologies company's Canadian branch. The Globe and Mail periodicals informed that the mentioned company had received a permit earlier this year to provide Turkish Baykar company specialized in UAV production with 7 of those systems. According to the Canadian law, sales of arms is prohibited if it can be used for violating international humanitarian laws of human rights.
Turkey-backed Azerbaijan unleashed war against Artsakh on September 27. Mercenaries and jihadists have been deployed by Turkey in Azerbaijan to fight against Armenians. The Azerbaijani armed forces target civilians and civilian infrastructures, killing dozens and causing great damage to the property. Azerbaijan targets also civilians in the Republic of Armenia. A civilian died as a result of a drone strike, and a bus was exploded (no one was inside). Another civilian was killed in the Republic of Armenia as a result of Azerbaijani shelling in Mets Masrik village.
A Turkish F-16 fighter jet downed an Armenian SU-25 jet in the Armenian air space on September 29. The pilot could not survive.