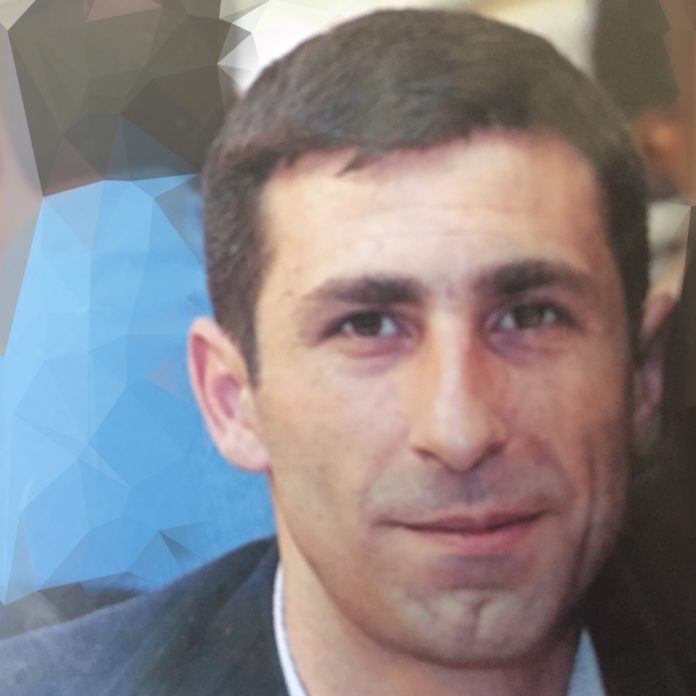 Tigran Badalyan, a 30-year-old prisoner who has been on a hunger and water strike for 18 days, took an extreme step yesterday. In the cell, he sewed his mouth and cut the vein of his wrist. Tigran was urgently taken to a civilian hospital, put a few bandages on his hand, then transferred again to Armavir penitentiary.
His mother, Mrs. Marine, alerted Forrights about this.
"I don't know what will happen to my son anymore. Help, please, help!" the mother was saying faintly through her tears.
A prisoner with health problems takes such extreme steps "for the sake of justice, to prove his innocence" ․
"Since the previous hunger strike, which lasted for about 20 days, my Tigrans had lost 25 kg, besides, he also has a problem with his liver, at that time he was even taken to the Hospital of Convicts. "In the conditions of this COVID-19, my unhealthy son is put in a situation where he has to take such a step to prove his innocence," the prisoner's mother told Forrights a few days ago.
Badalyan was charged with Article 177, Part 3, Clause 1.1 of the Criminal Code—theft committed on a particularly large scale by entering an apartment illegally.
According to the accusation, Tigran opened the window of his fellow villager's apartment, entered the apartment illegally, stole a significant amount of 10,000 AMD [about $20], and, entering the basement through an open door, stole 5 aluminum sheets for refrigerators, the value of which was totaling 115,000 AMD [about $240], which he sold to another fellow villager for 15,000 AMD the same evening.
The mother, however, denies it. According to her, her son did not steal, but found the plates on the side of the street․
"My son says, 'Mom, dear, if I did not steal, why should I go and sit [in the prison]?' The article envisages 4-8 years in prison, and the prosecutor said he will demand the maximum punishment. Please, understand me too, I do not hide a criminal; if he really had stolen, I would be the first to spit on his face and, holding his hand, would take him to the police department. He has a 3-year-old child. How am I going to take care of that child for 8 years? What am I going to say to the child: your father went and sat [in prison] innocently?" says the distressed mother.
Detention was chosen as a precautionary measure against Tigran, which, according to the defender, is disproportionate. He has been under arrest since October 11 of the last year. He was only released for 15 days when the court used bail as a precautionary measure․
"He was only released for 15 days, during which time he showed proper behavior. We presented ourselves to the department and gave testimonies. After that, the power structures of Artashat seemed to get involved in taking revenge on Tigran Badalyan. An appeal was filed with the Court of Appeals regarding the precautionary measure, and a decision was made to detain Tigran again, as if he was accused of a serious crime. The prosecutor said to my client with a content smile, 'Do you see that you are arrested again?' "As if it were a matter of principle," lawyer Karlen Avagyan expressed his indignation in a conversation with Forrights.
At the moment, the trial is at the stage of speeches, but the defense has submitted a motion for self-recusal to the judge-prosecutor, reasoning that they are not impartial. According to the lawyer, the judge seems to have already decided for himself that Tigran was guilty, and he pushes the case in that direction.
"The trial of the case is nearing completion. I filed a recusal motion to Tatul Poghosyan, Judge of the Court of General Jurisdiction of Ararat, Vayots Dzor region, and Prosecutor Hrach Davtyan. The trial is not fair, I have doubts about their impartiality. Even the victims state that they are not sure that it was Tigran who stole from their house. Also, there is no evidence in the case that will show that Tigran committed the act he is accused of," says Avagyan.
The next court session is on September 14. Forrights will follow up on the case and will report the details.
Roza Vardanyan