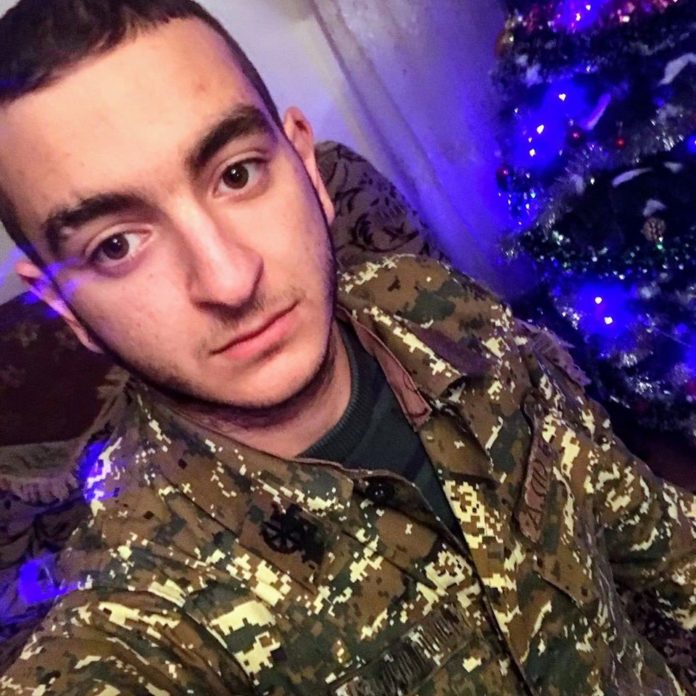 Volodya Galoyan, born in 2000, who served in the Hadrut military unit of the Artsakh Republic, died in July 2019 from several gunshot wounds to his head.
According to the preliminary investigation, he argued with the senior of the position R. Stepanyan and shot at him, then, in a state of confusion, went to a neutral zone and committed suicide. No drops of blood were found at the scene that is presented as a suicide scene of a boy with head injury. The forensic doctor recorded 22 "fresh" injuries on Galoyan's body, which proves that he was subjected to violence before his death. There are no buttons on the boy's pants; they were probably torn away during a fight.
However, investigators do not want to comment on these facts.
Recently, the preliminary investigation body carried out a new, sensational "investigative" operation: a year after the incident, after numerous requests from the injured party, the shirt of the deceased suddenly was found.
The point is that most of the 22 injuries registered by the forensic medical examination Volodya Galoyan received above his waist. So Khanum Mkrtchyan, the lawyer of the aggrieved party, Human Rights Defenders NGO, petitioned the investigative body to find out and send Galoyan's shirt and socks for examination. The boy's pants, boots, drawers and T-shirt have been examined by experts, but the military shirt and socks were not confiscated and were not sent for examination. And here, the lawyer is sent a decision by the investigator, from which it becomes clear to her that Galoyan's military shirt was found in the guarding area of ​​the military unit, by examining his backpack and sports bag.
So, in fact, the victim's personal belongings, including the shirt, which may have contained valuable traces, were not even confiscated. They were kept in the military unit for about a year. In the descriptive part, the investigator mentions that they were found in a plastic bag, in fresh condition, nothing was found in the pockets," said lawyer Mkrtchyan.
It turns out that Galoyan received multiple injuries above the waist, 3-5 days before his death and immediately before it, but there are no traces on his shirt. How is that possible? Answering the question of Forrights.am, Khanum Mkrtchyan mentioned that there were testimonies of witnesses in the case, according to which the conscripts were allowed not to wear shirts and to wear the armor directly above the t-shirt during the hot weather. "They explain that this is the reason why the shirt is 'fresh', but I don't think that could have happened. I have doubts that Volodya Galoyan's shirt has been changed [replaced by another]," says Khanum Mkrtchyan.
"If an unarmed witness is taken to the military police, he can confess even killing [President] Kennedy," said human rights activist Ruben Martirosyan." Everything in this case is based on false assumptions. I quote: the witnesses also mentioned that Galoyan could have had one shirt, put it in a sports bag after the morning and wear it at night. In other words, they can write whatever they wish."
Trousers were also found in Galoyan's sports bag. This is Galoyan's second pair of pants, which were sent for examination.
It should be reminded that the aggrieved party demanded to send for examination a pair of trousers, which was presented as Galoyan's trousers, on which there were mechanical damages, but the motion was not satisfied. And here is a new pair of pants, which the investigators voluntarily send for examination without any request.
How would you comment on the fact that, 11 months after the incident, new suspicious "fresh" material evidence emerges? In response to our question, Ruben Martirosyan mentioned. "In fact, instead of Galoyan's real clothes, a new pair of trousers was "discovered". Instead of sending the real pants for examination, they sent these 'false' pants and announce that Galoyan's clothes are already examined."
According to the human rights activist, Galoyan's clothes had to be sent for post-mortem examination, as mechanical damages were found on his pants. "It was necessary to conduct an objective investigation and find out what caused the damages, where and when," he said. As for why they didn't do it, he answers: "Because the forensic examination would contradict their false examination. There were 22 injuries on Galoyan's body, and the examination of the clothes would clearly show that Galoyan had been assaulted.
P.S. The organization has repeatedly addressed to the cases of Andranik Mkrtchyan, Artur Gasparyan, Kevork Haroyan, and Volodya Galayan. Each of our publications on these cases can serve as a basis for filing criminal cases, which, however, did not take place. Probably, there is no desire to address the facts of the crimes committed during the investigation.
Susan Simonyan