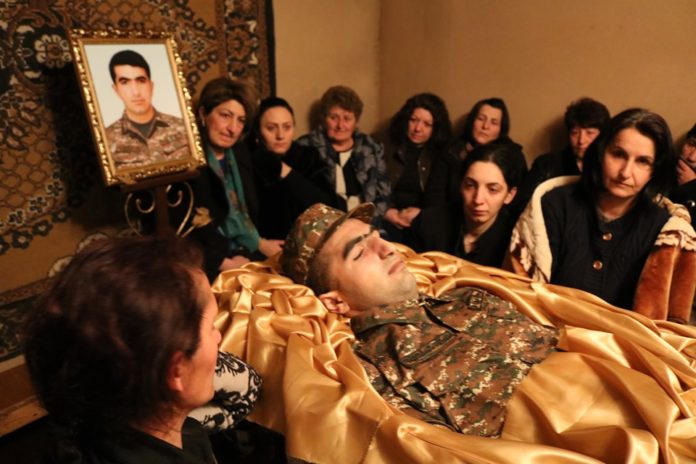 Today, in the Haytagh village of Armavir region, the last farewell to Artsakh Defense Army soldier Vahram Avagyan was held. He died on January 30 in the training military unit. After hours of the incident, without any investigation, his death was labeled as suicide by the investigative body, and grief and wrath were intertwined.
There was a commotion in the village. People furiously were attacking with their questions the representatives of the military commissariat who had come to attend the boy's wake, but were astonished by anger of the residents of Haytag. They could not find words to tell them, or they were instructed to remain silent.
There were many questions unanswered: how did our son commit suicide, who had he a problem with, who invented the tale of suicide, how could a person commit suicide by firing two shots with a handgun held on his chest from above?
According to preliminary information that is circulating, Vahram Avagyan shot himself twice. He fired a single shot, and then, the second time, fired an automatic shot. It happened in a crowded place. Nikolay Mkhitaryan, the commander of the military unit, told Forrights.am that Vahram Avagyan had stepped aside and killed himself in the training unit.
At that time there were 30-35 servicemen in the area. This is perhaps the most incomprehensible and unconvincing point in this tragic story.
"What suicide; they killed him. They have created a colony, not an army, they are doing deeds internally. In order to put an end to these 'suicides', they have to arrest someone," the angry men were shouting.
The news of Vahram Avagyan's death spread on January 30. The Investigative Committee stated: On January 30, at about 1:15 pm at the Training Center of the Defense Army, Vahram Mkrtich Avagyan, a compulsory conscript of the N military unit, fired a shotgun at his chest area from a AKM firearm, then he was transferred to a hospital where at 2:00 pm his biological death was recorded."
A criminal case has been instituted under Article 110 of the Criminal Code, ("Causing Suicide").
This version offends the relatives. "The day before my son's incident, they announced about a boy who committed suicide, then announced about another boy that committed suicide, and now my son: how can such a thing happen?'" Nvard Avagyan, the mother of the deceased, asks. She says that her son spoke to his brother a few minutes before his death. "I say, Vahan, your brother has spoken to you and he was well and sound: how can such a thing happen in five minutes?"
She also has noticed that her son's eye was bruised, his nose looked broken. Nvard had four sons. All have served in the army. The fourth was Vahram. He served only 6 months.
"From TV channels to social networks, everyone is talking about suicide, but where does that version come from? I have been present at the autopsy, I have seen that in that position, from above to bottom, no person can kill himself," the boy's father says indignantly.
All the relatives were unanimous that what happened was murder. They collectively were telling that Vahram Avagyan was not a weak person, he would not kill himself. They were demanding justice for which they were ready to fight. Some remembered the Yezidi soldier, whose countrymen from the entire village had traveled to see Nicol [the Prime Minister of Armenia] few days ago.
Syuzan Simonyan