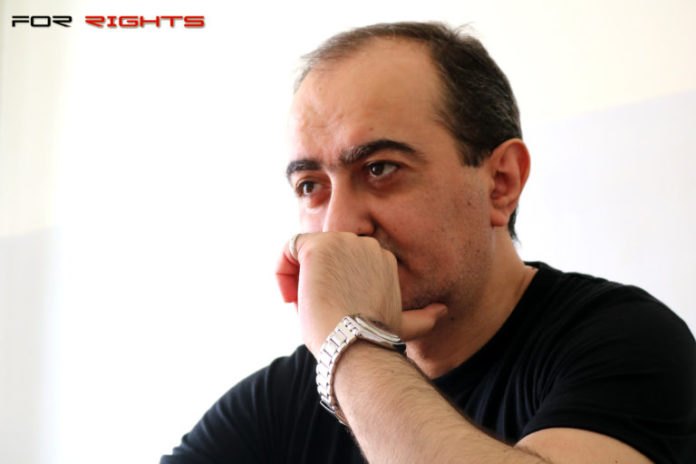 The trial of Artur Mkrtchyan, a life-sentenced convict, is continuing at the Shengavit Court of General Jurisdiction of Yerevan.
On August 1, 2018, the court, under the presidency of Judge Artush Gabrielyan, made an unprecedented ruling on the case of Arthur Mkrtchyan, recognizing the decision of the Penitentiary Service Placement Commission (to refuse to change the life sentence of the convict by removing him from closed regime to semi-closed one) as unlawful.
The court had ordered the above service to restore the rights of Arthur Mkrtchyan, but as Arthur stated in court, it was only on paper and there was no substantial change.
On December 5, the day of the last court session, the victim's successors were to appear, but only one of them, Rafik Martoyan, had appeared. His son Vardan Martoyan was killed that tragic day 23 years ago.
The court asked the victim's representative whether Artur Mkrtchyan had paid his civil penalty, and whether he has no claim, to which Rafik Martoyan responded that he had paid: "What debt and claim should I have? I have none."
Judge Artush Gabrielyan presented the victim's legal successor the complaint of Arthur Mkrtchyan against the refusal of his early conditional release petition.
"My baby is no more, and this man is an innocent man, he has been in prison for 23 years. I have no complaints," he said. "Do you accept that Arthur is not the one who killed your son?" the judge clarified the question. "Arthur is not the killer," Martoyan stated once again, adding that if Arthur clearly announces who the murderer is, then he is not against Arthur's conditional release.
After a short question-and-answer period, life-sentenced convict Arthur Mkrtchyan responded: "I really don't know who the murderer is."
"It is 23 years since my child is killed. What is there I can want from him [from Artur Mkrtchyan]? Let's say, he remains in prison two more years: how do I benefit from it?" said the father of the murdered soldier to the court and then, turning to Artur, he said: "I wish, god willing, you get freed."
Prosecutor Zakaryan petitioned the court to postpone the hearing and bring the other suffered parties to the court with proper notice.
The next court hearing is scheduled for January 21.
It should be reminded that Arthur Mkrtchyan was accused of killing five of his colleagues in 1996, but he never admitted his guilt.
Azniv Siradeghyan