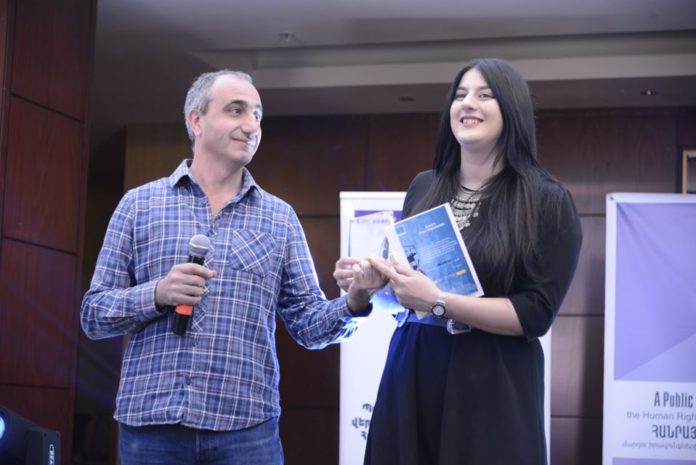 Three journalists of the NGO "Journalists for Human Rights" received prizes as well as letters of gratitude from the Minister of Justice Rustam Badasyan at the award ceremony "A Public Look at the Closed World: "Human Rights Situation in Closed Institutions" and "The Situation in Remaining Free of Misreatment."
Rosa Vardanyan, a journalist for the organization, was nominated for "The Best Human Story" prize for her article titled "When I followed the commission chairman's order and came one step forward, he took my whole folder and struck my face with all his might: LGBT people in the army." Rosa also received a special award from the Vanadzor Helsinki Association for addressing systemic issues. The basis for the award was the article "The body that is the perpetrator of a possible crime cannot hear the torture case impartially: Replacement of the SIS with penitentiary as reason for concern".
Marine Kharatyan, another journalist of the organization, also received two awards, one of which was for encouragement. The prize-winning articles were those named "People with disabilities are rarely put in custody; they mostly become disabled due to prison conditions" and "Imprisonment conditions of prisoners with disabilities have not been improved".
Minister of Justice Rustam Badasyan's letter of gratitude was awarded to the journalist of the organization Rafik Yengibaryan for addressing the lives of inmates in open regime penitentiaries.