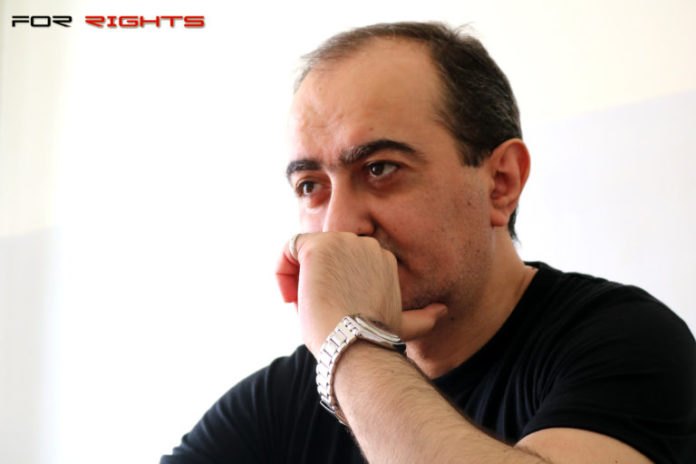 On August 1, 2018, the Yerevan District general jurisdiction Avan court made an unprecedented decision in the case of Artur Mkrtchyan, convicted to life imprisonment. Judge Artush Gabrielyan recognized the decision of the Distribution Commission to refuse to change Mkrtchyan's sentence from closed to semi-closed unlawful.
Yesterday, the discussion of the convict's appeal continued at the Shengavit court of Yerevan, presided by Judge Artush Gabrielyan.
Back in 2018, the court ordered the Penitentiary Placement Committee to restore Artur Mkrtchyan's infringed rights and change his punishment regime from closed to semi-closed, but as Arthur stated in court today, it remained only on paper and there was no substantial change.
Prosecutor Zakaryan, referring to the scoring system the prisoners apply for conditional release, noted:
"The scoring system is a subjective approach," then added that the report stated that Arthur Mkrtchyan had not worked, and the judge noted that there was no job opportunity at Nubarashen Penitentiary: "You don't have a job, but you say he doesn't work."
Thus, as at the previous session, this time they also referred to the issue that the Nubarashen Penitentiary does not have adequate conditions for work, sports and training, even though a Penitentiary official claimed that there were life-sentenced prisoners who were studying on their own. Artur Mkrtchyan, for his part, responded that he does not have the means to study because his parents are retired and he has no job.
The probation officer presented his report to the court, which stated that "the prisoner did not express his wish to work, there was no application for work", to which the court again responded, noting that "if there is no job, why would he present an application?"
Artur Mkrtchyan was subjected to disciplinary penalty 9 times in his 23 years of imprisonment; the last one was in 2013 for keeping a cellphone. By the way, all penalties have been paid. It should be noted that Mkrtchyan received most of the 9 penalties not because of his conduct, but because of keeping a cellphone. Given all this, the Probation Service has issued a negative conclusion, which it is not entitled to.
It was noted that according to the Probation Service, Arthur's behavior is negative and there is a high probability that he will commit a crime again if released, in response to which prosecutor Zakaryan pointed out to Hayk Tovmasyan, a probation officer: "What do you think?"
It was told that Arthur's behavior was negative and there was a high probability that he would commit a crime again if released, in response to which prosecutor Zakaryan answered to the probation officer Hayk Tovmasyan: "It is your opinion."
At the next court hearing, victims' representatives will be summoned to the court to make a statement on Arthur's early release.
The next court hearing is scheduled for December 5.
It should be reminded that Arthur Mkrtyan was accused of killing five of his fellow servicemen in 1996, but he has not admitted his guilt.
Azniv Siradeghyan