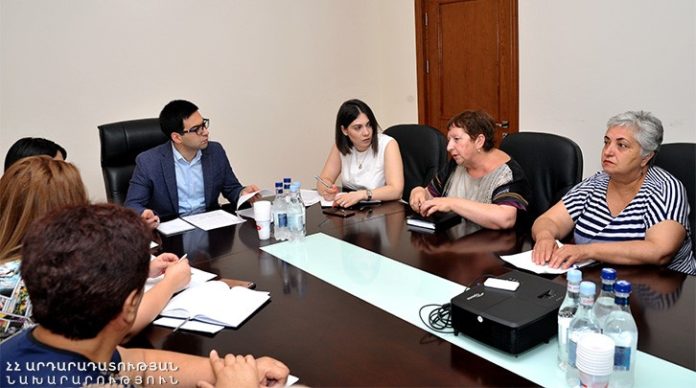 Minister of Justice Rustam Badasyan today received the mothers of Arthur Mkrtchyan, Ashot Kirakosyan, Artur Kocharyan and the brother of Arman Hovsepyan, who are sentenced to life imprisonment. President of the Journalists for Human Rights NGO Zhanna Alexanyan also participated in the meeting.
At the Minister's recommendation, the participants presented their relatives' issues related to the review of criminal cases, the proper implementation of the institute of early conditional release, the application of a new regulation to change the type of correctional facility for persons sentenced to life imprisonment, as well as regulation of the process of making reports on early release from penalties of the penitentiary and probation services and replacement of the conditions of remaining part of the sentence with milder conditions.
The Minister informed that the legal bases for reviewing the cases are provided for by the Criminal Procedure Code, which are new or newly discovered circumstances, and that the scope of parties authorized to review the cases is defined and does not include the Ministry of Justice.
Concerning the issues in the Ministry's competences, Rustam Badasyan assured that the Ministry will take active steps both to improve the institute of conditional release, to more effectively organize the process of re-socialization of persons sentenced to life imprisonment, and to make the changes for the corrective institutions to become more flexible.
The Minister also informed that during the forthcoming visits to the penitentiary institutions he will personally meet with the life sentenced prisoners and will hear their concerns.