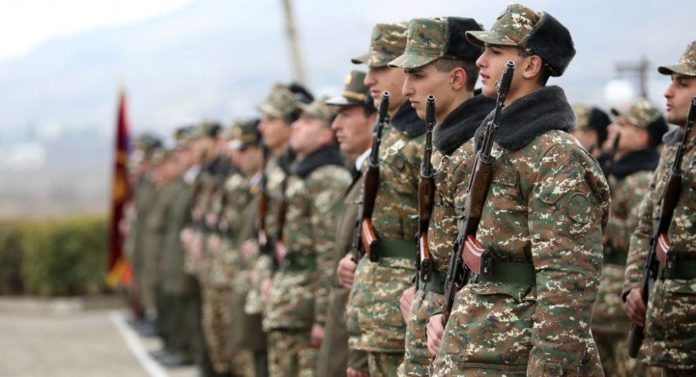 At this week's cabinet meeting, the government approved a draft decision by the Ministry of Defense that would release people with behavioral disabilities from compulsory military service.
The decision, according to the Ministry of Defense, will ensure proper organization and implementation of military service, and will exclude the involvement of persons with health conditions not compatible with military service performance.
This means that the Ministry of Defense is accepting that conscripts conducted since April 12, 2018 have shown that people with mild mental retardation without behavioral problems were getting problems with adaptation and with obtaining skills needed for military service.
According to the MoD, this has a negative impact on the proper organization of military service.
"After adoption of the Government of the Republic of Armenia decision N 404 dated 12.04.2018, it was obvious that military service of persons with mild mental retardation without behavioral problems develops issues with adaptation and skills needed for the military service, which negatively impacts proper organization of military service," states the government's today's decision in which the relevant clauses of the 2018 decision are annulled.
"It is a very good idea in itself, which will solve many problems and, in the meantime, will prevent the conflicts and violence that we witness in the army," Nina Karapetyants, the head of Armenia's Helsinki Association, told Forrights.
But the human rights activist thinks that there is a high probability of corruption risks. "We have to be careful here to prevent corruption risks, because if it's going to be an opportunity for some people to avoid military service based on this decision, it's already problematic. We do not want them to, again, exclude from military service their acquaintances with "light mental retardation" diagnosis," the human rights activist expressed her concern.
"Light, medium and heavy" mental retardation is decided by the commission, and how it should be handled now is quite problematic, Karapetyants said, assuring that if corruption risk is prevented, the decision itself is a very positive one.
Nina Karapetyants thinks that people who have been conscripted into the army with mental retardation and have taken up arms, can face problems, even causing serious consequences. You have to be careful here to prevent corruption risks, because if it is going to be an opportunity of avoidance the service for some people, it is already challenging.
The human rights activist is sure that this is a very good idea that will solve many issues and also prevent conflicts and violence in the army.
At today's Cabinet meeting, the decision was approved without any discussion or report.
It should be noted that this issue was brought to the forefront due to the scandalous case of serviceman Yurik Broyan, who was drafted into the army with mild mental retardation diagnosis. For months, Forrights has been noised about the grave health of military serviceman Yurik Broyan, as well as the fact that he was beaten by his commanding officer during his service as a result of which he was transferred to a mental health center.
Zhanna Alexanyan, the President of the Journalists for Human Rights NGO, considers this decision an achievement of the said NGO:
"The MoD initiative and the Government's immediate response are much welcomed. The example of Yurik Broyan also convinced the public that people with this disease should not be drafted into the army. Minister of Defense David Tonoyan gave importance to the work of our organization to raise such issues. We have come up with various proposals, and I hope they too will be met with positive estimation," she said.
Azniv Siradeghyan