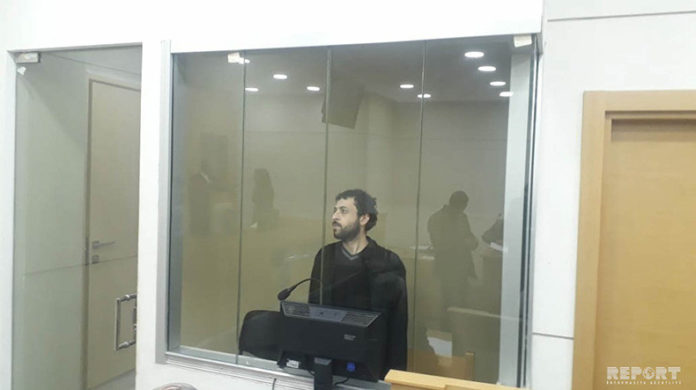 Parents of Karen Ghazaryan, who have been captured in Azerbaijan under unclear circumstances and sentenced to 20 years by Gyanja's court lately, are in desperate state of mind. Seeing the picture of Karen in the courtroom published by the Azerbaijani media, they became much more frustrated.
"Looking at the picture, [it becomes obvious that] his condition is bad, very bad, he became too skinny. Five-years-long treatment was wasted," says Karen Ghazaryan's father.
The parents did not have news from Karen during long months. Through the International Red Cross, Karen has conveyed orally to his parents that he was well. Parents wrote a letter back to Karen a month ago, but there was no answer yet.
To remind, on July 15, 2018, the Azerbaijani Defense Ministry announced that, in the direction of Ghazakh region, they have thrown back a "subversive group" of the Armenian armed forces, a member of which was taken prisoner. Immediately after this statement, the Armenian Defense Ministry announced that the person mentioned by Azerbaijan was actually Karen Ghazaryan, born in 1984, resident of Berdavan village in Tavush, who has mental health problems, does not and never has served in the Armenian Armed Forces.
On February 27, Gyanja court of Azerbaijan sentenced him to 20 years of imprisonment as a saboteur.
"We are still shocked by the verdict. I do not know what has to be done, I ask Prime Minister Pashinyan to organize my son's return to homeland soon," says Karen's father, Armen Ghazaryan.
The Azeri side issued a photo of a special detachment soldier claiming that it was Karen Ghazaryan.
"It is so obvious that it is not Karen. My boy is a farmer, he has nothing to do with subversion. It's not his photo, my son has not taken part in anything in military," said the afflicted father.
Demonstrations were organized months ago in this frontier village, demanding the return of Karen, but, after negotiating with the authorities, they were stopped not to prevent the organizational work for Karen's return. Karen's father does not rule out the possible resumption of protests.
"We are in a state now that anything is possible. There may be unpredictable things, I cannot say, and, there may not be."
Karen's verdict was accepted painfully in the village. The villagers do not exclude that the Azeris have kidnapped Karen from the house or the neighborhood.
"The only solution to the issue is the exchange; we do not see any other solution," said Smbat Mouxoudian, the head of the Berdavan village. "During the war, the village was doing its own self-defense, and, if someone was captured, the village stood up and, through pressure, brought him back; now the regular army is standing there and the village cannot bring back its resident through pressure."
Prime Minister Nikol Pashinyan met with parents of Karen Ghazaryan at the end of November, noting that Azerbaijan has made a semi-formal offer saying that there are three Azeris in Artsakh, and there are three Armenians in Azerbaijan, they offered to exchange all with all. However, in his words, in reality everything is not so simple because two Azerbaijani citizens in Artsakh are sentenced one to 20 years of imprisonment and the other to life imprisonment because they have killed two Artsakh citizens.
Human rights expert, lawyer Ara Ghazaryan said in an interview with us that he filed a complaint to the European Court in July.
"A petition to promptly inform Karen's whereabouts, report on his health condition, and send his criminal case files. The ECHR satisfied the petition, but Azerbaijan has sent only incoherent information."
According to the lawyer, they are currently preparing materials on Karen's verdict to apply to the ECHR. However, it is not possible to demand Karen's extradition or return. "We cannot claim extradition within the framework of the European Convention on Human Rights. The European Court is not engaged in returning matters, but it may serve as a basis for the political field in the future for returning Karen."
According to Ara Ghazaryan, they raise the issues of the right of Karen Ghazaryan's life, prohibition of torture, deprivation of freedom, right to a fair trial, right to privacy and the prohibition of discrimination. RA Foreign Ministry has condemned Karen Ghazaryan's verdict:
"We condemn this verdict made by the Azerbaijani court in an apparent violation of international humanitarian law, the real author of which is the Azerbaijani leadership."
According to the Foreign Ministry, the recent decision by the Artsakh authorities to release the Azeri soldier, who has been serving a proportionate sentence, best demonstrates the commitment of the Armenian side to the rule of law and international humanitarian law. "Armenia will make consistent efforts to protect and defend its citizens' rights," the MFA assured.
Marine Kharatyan