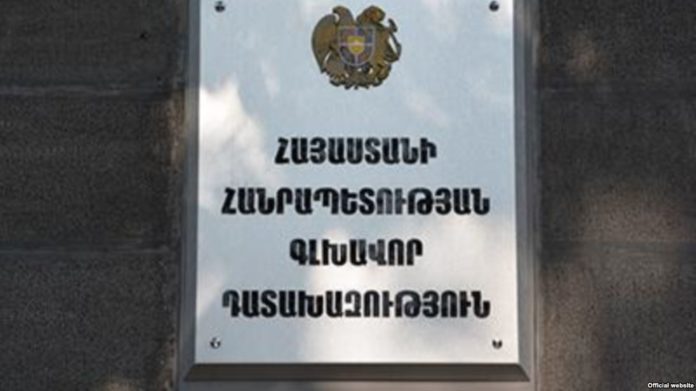 The General Prosecutor's Office has withdrawn the appeal against the chairman of the NGO "Veles", human rights activist Marina Poghosyan.
On May 30, 2011, Judge Mnatsakan Martirosyan of Yerevan Court of General Jurisdiction, acquitted Marina Poghosyan accused of embezzling someone else's property with mercenary motives.
According to the indictment, she stole the apartment (at the address 50 Nalbandyan St.) of a Canadian citizen Arpi Meras, and the proceeds from the sale of the apartment, $140,000.
Judge Mnatsakan Martirosyan recognized and announced Marina Poghosyan's innocence and lifted the restraint measure against her — signature. The judge has left without consideration the 57 million AMD civil plaintiff against Marina Poghosyan.
The appeal was filed not only by the prosecutor Bagrat Ghazinyan, but also by the representative of the victim's legal successor Hrant Ananyan. Hrant Ananyan was demanding Marina Poghosyan to be sentenced to seven years in prison and to pay 57,820,000 Armenian drams (approximately $120,000) as compensation for plaintiff Saro Meras for the offense caused by her.
Prosecutor Bagrat Ghazinyan had demanded that Marina Poghosyan be found guilty of committing the offense and be sentenced to 6 years and 6 months in prison without property confiscation. However, after a while, the prosecutor took back the complaint.
The Public Relations Department of the Prosecutor's Office told Forrights.am that the superior prosecutor in this case came to the conclusion that there were no sufficient grounds to appeal the verdict in the Court of Appeals and has withdrawn the complaint.
However, Hrant Ananyan, the representative of the victim's successor, thinks their complaint is justified and expects a fair decision from the Court of Appeals. Saro Meras, the son of the late Arpi Meras, is acting as successor.
The aggrieved party states that the apartment was sold without the knowledge or permission of Arpi Meras. The Canadian philanthropist's son assures in the media that their goal is the victory of justice and all they want is their own apartment. But, as Marina Poghosyan has already sold it, they now demand the proceeds from that sale.
On the other hand, Marina Poghosyan invokes that Arpi Meras issued several power of attorney letters in 2008, 2010 and 2013, which confirm that she has no obligation to transfer money to anyone. "In the text of the Power of Attorney letter it is written that I can sell it at my own discretion, mortgage it, give the apartment to gratuitous use and so on, as I had invested a lot of money in that apartment," says Marina Poghosyan.
Susanna Poghosyan