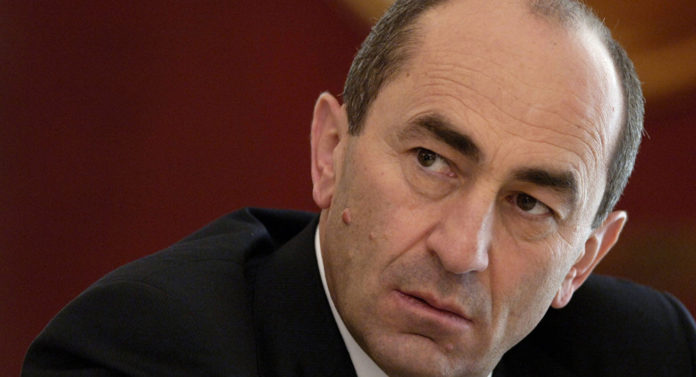 Robert Kocharyan, who is accused of overthrowing the constitutional order on March 1, 2008, and his son Sedrak Kocharyan, have begun a real trial attack. Kocharyan, the second President of Armenia filed a lawsuit against Prime Minister Nikol Pashinyan demanding apology for a statement made by the Prime Minister. Robert Kocharyan filed three lawsuits against the Beginning Media Center LLC, accusing it of defamation.
Sedrak Kocharyan is acting on two fronts. He is demanding 2 million drams compensation and a public denial from political scientist Ara Papyan, and has filed a lawsuit against the head of the National Security Service Arthur Vanetsyan demanding compensation for defamation and public denial. Forrights.am contacted Sedrak Kocharyan's lawyer Ani Alaverdyan in order to clarify the grounds for suits with her. It was not possible to get information on the case against Vanesyan in the Datalex information system. The lawyer said that she was in the court session and asked to call her in 2 hours. From the promised time on, our calls to Ani Alaverdyan were left unanswered. The NSS press center was also inaccessible.
Robert Kocharyan vs. Nikol Pashinyan
The lawsuit filed by Robert Kocharyan against Nikol Pashinyan was prepared by lawyer Hayk Alumyan. He is going to present Robert Kocharyan's interests to the court. The lawsuit was filed on September 17.
Robert Kocharyan considers defamation a statement made by Prime Minister Nikol Pashinyan during the latter's visit to France. Commenting on the fact of the bugged conversation between the NSS and SIS chiefs, the prime minister said: "…Or an interpretation of Robert Kocharyan's release. He says he has immunity. What does it mean? In other words, it is possible to organize killing of people and say, "I have immunity?" Where is it written?"
Kocharyan's attorney Hayk Alumyan told the "Hetq" newspaper: "He [the Prime Minister] wants to say that Kocharyan has organized peoples killings and now refers to his immunity. But no such accusation was made against him, no verdict exists regarding such charges."
Human rights activist Zhanna Alexanyan thinks that the sentence pronounced by the Prime Minister has been changed by Kocharyan and interpreted arbitrarily.
"The Prime Minister raised a general question: a theoretical one. Robert Kocharyan wants to say that he is a person who fights for dignity and reputation. Cutting off Nikol Pashinyan's words from the context, he tries only to defend himself," the human rights activist concludes, adding that Kocharyan simply is trying to to get rid of the theme of blood associated with him.
To date, the issue of immunity has not been clarified for the public, reminds Zhanna Alexanyan. Only controversial opinions have been heard. Kocharyan's defense insists on the principle of immunity, and valid and solid arguments contradict it. "It follows that the issue of Robert Kocharyan's immunity could be sounded as Nikol Pashinyan did it:
"The best answer to the issue of immunity was given by the mother of soldier Tigran Abgaryan, who was killed on March 1, 2008: "Immune was my son's right of life."
Sedrak Kocharyan vs. Ara Papian
The head of the Modus Vivendi Center, political scientist Ara Papyan also became a target of the Kocharyan family. Sedrak Kocharyan has filed a lawsuit against Papyan based the latter's opinion published in the Lragir newspaper. Ara Papian said in the interview that during Kocharyan's reign economy has grown eight times, but could have grown 18-20 times if there were no pressure on businessmen. Speaking to Forrights.am Ara Papyan remembers his expressions in full:
"I have said that I knew facts when people have been pressured, even beaten, and have not been allowed to engage in business of import and sale of mobile phones since it was Sedrak Kocharyan's sphere. As far as I understand, they dispute this argument, they think it is defamation, and the cellular phone business has not belong to Sedrak Kocharyan." Ara Papyan learned about the suit against him from the media.
"If you ask the customs officers of the time, and those who have ever returned from Dubai, the only question they were asked was whether they had mobile phones with them. That is to say, they checked that no one would ever bring a mobile phone to the country. After all, there is statistics, let them look at and find out who initially was engaged in telephone business."
Ara Papyan is convinced that his statement does not fit the definition of defamation.
There is an interesting detail. Ara Papian was Armenia's ambassador to Canada in 2000-2006 during Robert Kocharyan's tenure. Ara Papyan thinks maybe his position is psychologically unacceptable for Kocharyan family. "As they are thinking, he [Papyan] is our ambassador, we have appointed him and now he speaks against us. But I never was their ambassador; I was the ambassador of the Republic of Armenia. I've been in diplomacy since much earlier times than the Kocharyans moved from Karabakh to Yerevan."
Ara Papian draws attention to the fact that father and son Kocharyans targeted public figures – Nikol Pashinyan, Arthur Vannetsyan and himself. The goal was to frighten other citizens and shut down the critics' mouths.
The law enforcement bodies have called on the public to present the facts they possess on March 1, 2018 case [when Kocharyan was the President of Armenia and 10 peaseful demonstrators were killed by military]. An investigation is also underway on the legitimacy of some of Kocharyan's assets. By filing lawsuits all around themselves, they aim to spread fear in society so that people do not submit information about Kocharyan to law enforcement bodies.
Robert Ananyan